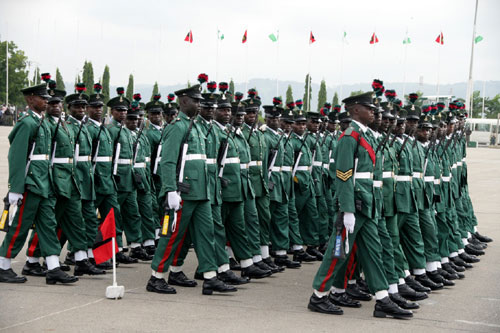 The planned special birthday parade to be mounted by the Brigade of Guards as part of activities to mark President Muhammadu Buhari's 75th birthday has been cancelled.
A source close to the presidency, which confirmed this development in Abuja on Sunday, did not give reasons for the cancellation.
It was, however, gathered that the president's family, led by his wife, Aishat and some presidential aides led by the president's Chief of Staff, Abba Kyari, had planned a low-key birthday celebration for the president where they would present birthday cards to him.
It would be recalled that President Buhari had in 2016 inspected a special parade mounted by the Brigade of Guards as part of activities to mark his 74th birthday anniversary which coincided with his daughter's (Zahra) wedding.
Zahra got married to Ahmed Indimi, the son of a multibillionaire oil tycoon, Mohammed Indimi, in another low-key event.
It was also observed that Nigerians had been congratulating President Buhari on his 75th birthday in various platforms of the social media since Thursday.
They rejoiced with the president and prayed for his good health as well as wishing the All Progressives Congress-led Federal Government success in the discharge of its promises to Nigerians.
Former President Goodluck Jonathan, in his birthday congratulatory message to President Buhari, described him as a statesman who has earned a special place in history.
"I prayed that the God Almighty that has kept you alive and healthy till now, will continue to protect and strengthen you as you lend your efforts towards the realization of our collective dreams for a greater and more prosperous nation,'' Jonathan said in a statement on Friday.
Others and prominent Nigerians including state governors, leadership and members of the National Assembly also felicitated with the president.
Senate President, Bukola Saraki, in a message sent through his twitter handle @BukolaSaraki, using the hashtag #PMBAt75, prayed that God may grant President Buhari wisdom to continue to run the affairs of Nigeria.
He said: "Happy Birthday Mr. President! I wish you the blessings of the Almighty, and continued wisdom and grace as you celebrate another year.''
Idris Baba, who wrote in response to Saraki's birthday wish, said: "I join the Senate President, Dr Abubakar Bukola Saraki in wishing the President a Happy Birthday as Baba is Aging with Grace. May Almighty Allah Continue to Protect Baba for us.''
The Speaker of the House of Representatives, Yakubu Dogara, also wished Mr President a Happy Birthday using his twitter handle @YakubDogara.
He wrote: "On behalf of the leadership, membership of @HouseNGR, I wish to join the good people of Nigeria and numerous well wishers across the globe in wishing H.E. President Muhammadu Buhari @MBuhari a happy birthday.
"Under his leadership, Nigeria is steadily regaining its past glory, winning investors' confidence and earning global respect and recognition.
"He has remained consistent in dealing with corruption, insecurity and unemployment through various reforms and interventions.
"We pray that God continues to keep President Buhari in good health and bless him with more fruitful and prosperous years of service to the people and the nation.''
The All Progressives Congress (APC), using its official handle @APCNigeria also wished Mr President well and called on Nigerians to wish the President a warm celebration.
A video of a baby, who sang happy birthday song for Mr President, has already started going viral on the social media platform with over 50 retweets.