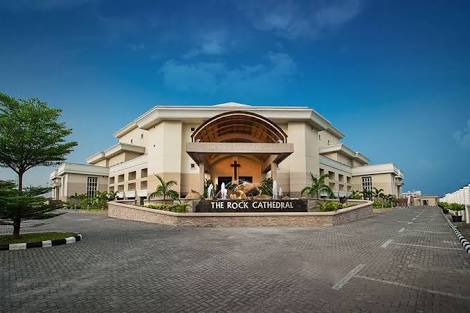 By Baba Oladeji
I always think that the name "House on The Rock" is immediately visual once you utter it, so when I saw the church edifice I was disappointed that we couldn't match this name with an equally metaphoric architecture.
For once I thought the church would sit on a rock (or at least an abstraction of it), with steps from all corners of the site leading to a summit. I thought the steps would bear ramps tethered to the street that will draw people in just like Isaiah 2.2 describes the future house of the Lord. Also because Jesus Christ describes how the Church will be built on a "rock of revelation, I thought a circular shaped building will allow for an equidistant focus on, and a stacking of seats around the seat of revelation which is the pulpit.
But looking at the completed House on The Rock building, it seems like a forceful cobbling of volumes so much that I usually cannot imagine that the interior I see in the television broadcasts was carved out of the same exterior. My concern is, however, broader; not on House on The Rock per se but on the architecture of the Pentecostal Church at large.
Till recently, the Catholic and Anglican Church have maintained a tradition of making church buildings that accentuate the vertical distance between Divinity and Humanity: where pointed arches, spires, flying buttresses and ribbed vaults made you feel little in front of the Maker, where a believer's fixed gaze toward heaven during prayer is aided by a stained glass painting of Jesus on the Cross, where hymns pull right at the heart's strings on sighting organ pipes that stretch like they are on their way to heaven, where a fresco on the baptismal font depicting a dove resting on Jesus' head readied hearts for salvation. Their liturgy, sturdy as it is, was propelled by a nave that bore processions of intimidatingly robed bishops and choristers. Theirs was an age where religion attendant with symbols was emphasized over relationship.
On the flipside, the relationship paradigm of the Pentecostal Church comes with a radical form of spontaneous liturgy: a doing away with the "vertical distance" and a reconciliation of divinity with humanity. The worship services are wilder, so why are the building traditions of old maintained even when order in the way of the Orthodox churches isn't as much priority for the Pentecostal Church. For instance, it is clear that the Pentecostal Church remains stifled by vestiges of the nave-narthex syntax borrowed from the traditional Church. Why? It is because there is almost no architectural grounding to support, engage or transcend their radical form of spontaneous liturgy.
Hence, my argument is that their liturgy deserves its own architectural meditation. Can we begin to interrogate the Pentecostal Church's popular choice of the temporary, lightweight structures such as marquees and tents as a signal for a future church driven by evangelism; of a church ready to dismantle and move or perhaps break into new outposts for congregations unreached?
Summarily the architecture of the Pentecostal church needs more grounding, more intellectual rigour than just marquees or tents. Just like technology is disrupting traditional economic sectors, the Pentecostal movement continues to disrupt the traditional Church and this powerful movement deserves its own architecture to document its place in time.
Bio:
Baba Oladeji is an architect and Partner at Design Party. Before starting Design Party, Baba studied architecture in Nigeria and England. Alongside architectural practice, he maintains an academic interest in how architecture shapes politics, which he has explored through the futuristic Fela Memorial Force HQ Obalende 2038 exhibited in March 2016.