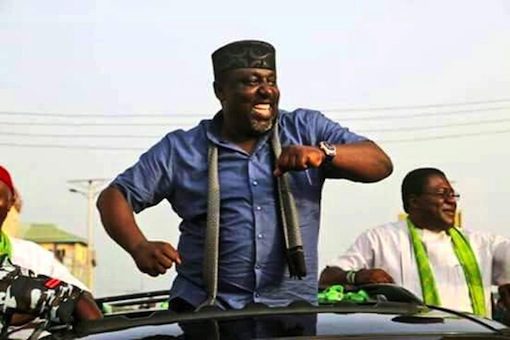 By Elizabeth Edet
Hello my people- oriented governor, while others criticize your hard work and good governance, I write to congratulate you, your efforts and your style of administering the people of Imo State. Using the words of Jesus on the cross, "Father Forgive them for they know, what they are doing". Perhaps they are blinded not to see your developmental strides across in the state, though I wonder why it is so because even a blind man can see the gigantic statues of Jacob Zuma and the other tall woman from Liberia.
Your government is envied by other states and governors who cannot perform like you. From the history, you are a man full of zeal and with the right vision to serve your people in the state. In 1999 you competed in the primaries to be the PDP candidate for governor of Imo State but lost to Achike Udenwa, without relenting you moved to the All Nigeria People's Party (ANPP), and was unsuccessful as the candidate for President on the ANPP platform in 2003, and finally emerged in 2011 as the governor of Imo State.
Your six years in office has seen you carefully execute your visions, one of which is the statue erected in honor of a man who is facing over 700 cases of corruption charges in his home country. They question left in my mind is what more do the people of Imo State want, because personally sir, you don't deserve all these negative criticism people are throwing at you. If one was to list the quality of a leader, it is certain that you are a man imbibed with more than enough qualities required of a leader. You are that leader that came all the way to Akwa Ibom State to campaign for the local government elections even when your state is still foot-dragging and yet to conduct the local government elections in six years.
Just for your people's sake your administration had to go against the words of the 16th president of United States of American Abraham Lincoln "folks are usually about as happy as they made up their minds to be," by going to enforce happiness on the people of the State. While most governors in other states are blindly tackling things like; electricity, good roads, good hospitals, creation of job opportunities, valuable currency, enhancing security system, boosting the economy of the State through Agriculture, poverty alleviation and enacting free and compulsory education and infrastructure, to make their people happy, your government has surpassed all that by creating a Ministry of Happiness and Couples or Purpose Fulfillment.
Ignorantly the people who criticize your administration fail to understand that this Ministry led by your kid sister Mrs. Ogechi Ololo would bring about happiness not only to the people of Imo State but to the civil servants and pensioners who are yet to receive salaries for eight months now. Perhaps their salaries would be used to pay the new commissioner for her services in ensuring that the people are happy.
Dalai Lama might have been wrong when he said, Happiness is not something readymade; it comes from your own actions.
No wonder you were elected as the Chairman of the All Progressive Congress governors under the ageis of Progressive Governors forum, this is a message to confirm that not only the people of Imo State are happy with your governance but the All Progressive Congress governors are proud of you.
"It is said that you do not know what you have until you lose it", I will not sit down and wait for this to be my fate, and hence this letter to request for a statue of me before your tenure elapses. Please who should I sent my photograph and measurement?