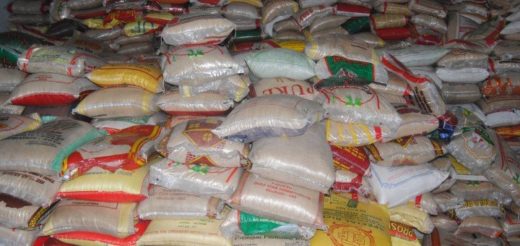 The National Agency for Food Drugs and Administration Agency (NAFDAC) has called for full branding of rice to save consumers from harm.
Dr Christiana Esenwa, the Coordinator of NAFDAC in Anambra, made the appeal when she led a team of the agency to the state Ministry of Agriculture in Awka on Monday.
She raised alarm over the proliferation rice products which could be harmful to human bodies in the market.
Esenwa said there was a lot of illegally packaged Anambra Rice brand in the market whereas the franchised belonged to Stein Mills limited, a company that have been scrutinised and certified to distribute the products.
The coordinator said while it was encouraging that local rice production was increasing, there was need to protect millions of consumers from the harmful effects of unauthorised rice.
She called for full branding of rice products because they contained biological and chemical substances that could cause serious damage to the human system if not subjected to standard treatment.
"There is so much hazards in eating rice that has not been tested because it harbours heavy metals due to nature of its production, these are ascenic and aflatoxins which are harmful to the human body.
"We are calling on government to suspend all illegal packaging of rice, and Anambra rice has been abused seriously.
"There is no way two companies will have one trade mark for one product in Anambra; Stein Rice is the company that has the market authorisation for Anambra rice.
"We are not interested in the politics, we are not here to hunt or chase them out of the market, all we are interested in is the protection of Nigerian consumers from the possible harm," he said.
Esenwa said the process of registering and obtaining market authorisation was a maximum of three months from the point of application.
Responding, Mr Leo Imoka, the Permanent Secretary, Anambra Ministry of Agriculture, thanked NAFDAC for promoting the health of Nigerians.
Imoka said the state government had set up an inter-ministerial committee which have been talking with the Standard Organisation of Nigeria (SON) on ways to standardise the rice products from the state for competitiveness.
He however urged NAFDAC to give producers and marketers in the state some time as government would join the agency to resolve the matter next year.
Imoka said Stein was a processor and off taker which did not have sole franchise for the Anambra Rice brand.
"There is a clamour for massive production of rice by the Federal Government and Anambra is working hard so that by 2018 importation of rice will be a thing of the past,'' said the permanent secretary.