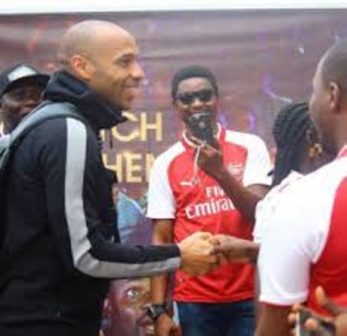 Razaq Babs
One of the greatest footballers that ever played for Arsenal football Club of London, Thierry Henry has arrived Nigeria.
Henry popular called Igwe by Arsenal fans in Nigeria arrived this afternoon courtesy Guinness Nigeria. The Arsenal legend is here for the Guinness Made of Black programme.
Guinness Nigeria announced Henry's arrival with a tweet: "The Igwe has Landed! #BeAFrontRowFan pic.twitter.com/Zqed3rQhew
— Guinness Nigeria (@GuinnessNGR) December 17, 2017
He was received on arrival by some Arsenal fans who used the opportunity to take selfies with the Arsenal Great.