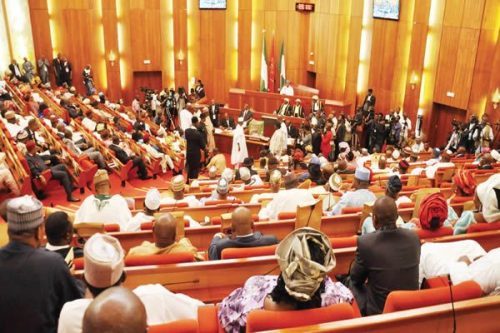 Members of the Senate on Tuesday lamented that the 2018 Appropriation Bill presented to the National Assembly by President Muhammadu Buhari is filled with inaccuracies and budget padding.
The lawmakers criticised the budget, saying that they could not complete work on the appropriation bill as being canvassed by the presidency.
The senate members also lashed out at the presidency for what they called poor implementation of the 2017 budget, as the it showed lack of seriousness on the economic team of the president.
The Senate had therefore suspended plenary for two weeks to allow committees organise budget defence sessions with MDA's, Channels tv reports.
But lawmakers are raising complaints that the budget defence sessions held in the last two weeks show that MDA's are woefully unprepared to defend their budgets and the level of implementation of the 2017 budget is embarrassing.
President Buhari had earlier in November presented the 2018 Appropriation Bill to a joint session of the National Assembly. The 2018 budget according to Buhari will consolidate on the achievements of the previous budget and that 2018 was expected to be a year of better outcomes.