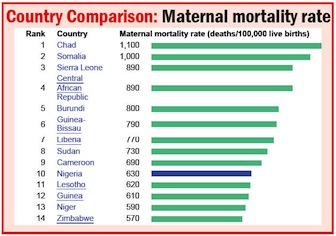 Chief Danjuma Gajere, the Etsu of Gbaupe Community, a suburb in Kuje Area Council of FCT, on Tuesday attributed high maternal deaths in the area to lack of functional health centre, access road and other basic social amenities.
Gajere told the newsmen in an interview that women in the community often die while giving birth at home.
He explained that sometime, when they have complications during delivery and in attempt to rush them to the hospital, they die on the way because of the bad road that link the community with the town.
According to him, the women in the community are willing to go to the hospital or health centre for antenatal or other health care services if such is made available.
The Village Head lamented that the area had no any source of drinking water since the stream used by the community was polluted.
He added that the people in the village had cultivated an unhealthy habit of defecating in the stream and around it hence polluted the only source of drinking water in the area.
"We now fetch water to drink and for other domestic usage from the houses of few individuals who sunk boreholes in the community," he said.
Gajere said that his village, which residents were mostly farmers, had not less than 6,000 population and should not be neglected.
He therefore appealed to the FCT administration to intervene and provide basic amenities and infrastructure for his people to have decent lives.
READ: Disabled Trafficking victim handed over to Plateau Govt.
An indigene of the community who gave her name as Mrs Esther Ezekiel also appealed to the government to provide a health facility to the area, pointing out that a big settlement like Gbaupe is supposed to have functional health centre.
Ezekiel told newsmen that two out of three of her children were delivered at home with one in the hospital, adding that she carried pregnancy of twins in the past, but one died in her stomach while she was on labour.
"The only baby I had in the hospital was with assistant of a neighbour of mine who took me in her car to a hospital in Lugbe where I delivered.
"I am not happy with the way this village is cut off of development and I am appealing to the government to help us,'' she said.
The community has no electricity, no telecommunication network as well as secondary school.
The only health care facility seen in the village was donated by SAM Empowerment Foundation, and when visited no health worker was seen as at the centre.
The Kuje Area Council was yet to react to the plight of the Gbaube community as newsmen were was told by some officials that the chairman of the council was out of town.