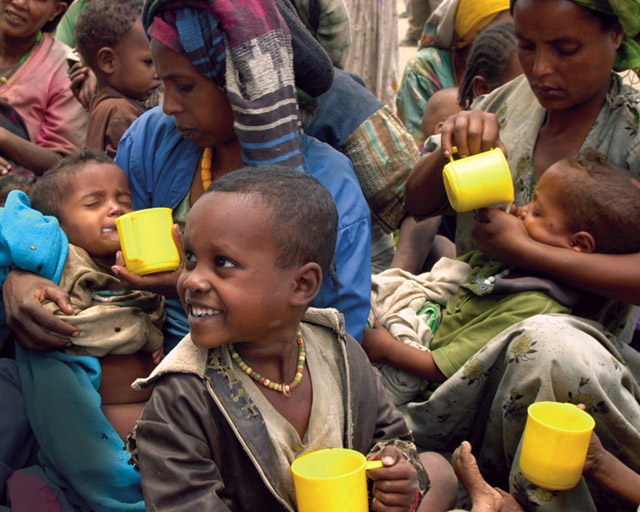 The Democratic Republic of Congo (DRC) was the most neglected crisis in 2017, according to a survey of aid agencies.
According to the survey, millions of people in DRC are the brink of a humanitarian catastrophe and children facing unspeakable violence.
They said overshadowed by the Syrian war and Rohingya refugee exodus from Myanmar, Congo barely made headlines in spite of horrific violence that has erupted in the center of the vast country.
The Central African Republic (CAR), with its "off the charts" vulnerability, and Yemen, ravaged by war and hunger – ranked behind Congo in the Thomson Reuters Foundation poll of 20 leading aid organisations.
"A massive humanitarian crisis has been unfolding in the Congo almost unnoticed," said Mark Smith, World Vision's emergencies chief.
Smith said "the scale and brutality of what is happening to children in hard to reach places is almost unimaginable."
He said an insurrection against the government in the Greater Kasai region has displaced more than one million people in what the Norwegian Refugee Council called a "mega-crisis".
Smith also said food shortages have left millions hungry with hundreds of thousands of children at risk of dying.
Agencies have received accounts of mass killings, rapes and beheadings.
The aid agencies said there have also been reports of horrendous attacks on babies and young children.
Children as young as 10 have been recruited by armed groups, while others left orphaned are sleeping alone in forests.
The agencies said Kasai's poor roads and telecommunications have made access challenging, contributing to its invisibility.
Provinces in the east of the DRC also remain volatile.
Across the country, 13.1 million people need assistance, nearly a third of whom are displaced.
World Vision said it believed years of repeated and overlapping conflicts in Congo meant it had "fallen off people's radar" – a view echoed by others.
Congo was named by nearly half those polled, but many said there had been such a plethora of crises in 2017 – with at least four countries at risk of famine – that it was hard to pick the most neglected.
Oxfam named CAR as "the most forgotten of forgotten crises" with 2.4 million people needing help "in a country that most people don't even know exists".
CAR has been racked by violence since mainly Muslim rebels ousted the president in 2013, provoking a backlash from Christian militias.
The UN refugee agency said 1.1 million people – nearly a quarter of the population – had fallen through the cracks and warned the "calamitous situation" would worsen unless a massive funding shortfall was addressed.
Although Yemen has made headlines this year, agencies said the coverage did not begin to reflect the enormity of what was happening.
"The lack of public awareness … is truly shocking given the sheer scale of suffering and deliberate starvation of much of the population," said Jean-Michel Grand, executive director of Action Against Hunger UK.
This week marked 1,000 days since the escalation of a conflict which has uprooted more than 2 million people, left 8.4 million close to famine and triggered a massive cholera epidemic.
The warring parties have attacked schools and hospitals and restricted aid.
"The past year has been incredibly harrowing," said Islamic Relief Worldwide CEO Naser Haghamed.
"In spite of an increase in media coverage and political intervention, the true scale of the emergency is still not dominant in the consciousness of the wider world."
International Medical Corps said the level of need was "unfathomably immense" and the situation almost entirely manmade.
Two agencies flagged the displacement crisis in the Lake Chad Basin, which was voted the most neglected emergency in last year's poll.
An eight-year campaign by Boko Haram militants to create an Islamist caliphate has affected millions of people.
With most coverage focused on Nigeria, Plan International singled out the impact on its forgotten neighbor Niger where more than 400,000 people need help.
It said militants were killing and threatening teachers, forcing children to miss school and raising their vulnerability to sexual violence, abduction and enslavement.
"These children deserve the world's attention. The violence which is robbing a generation of an education and forcing them to grow up in a world of fear has got to stop," said Plan's humanitarian director Roger Yates.
With starvation threatening millions in Nigeria, South Sudan, Somalia and Yemen, one agency picked famine as the year's most neglected crisis.
Mercy Corps' humanitarian chief Michael Bowers said food was increasingly being used as a "weapon of war" with little action taken by the international community.
"Global hunger is on the rise for the first time this century.
"We fear 2018 will look much like 2017 without a massive drive to fight back hunger," he said.