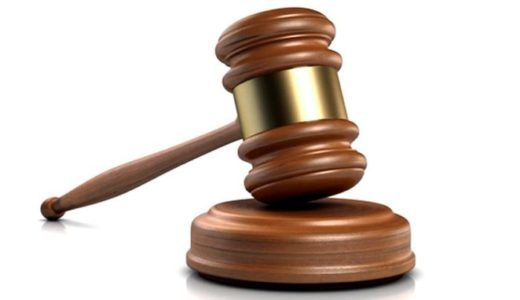 Paul Iyoghojie
A Lagos based Lawyer, Olamide Gbadamosi, 54, and his Sister, Kehinde Gbadamosi, 35 have been arraigned before a Federal High Court, Lagos for allegedly conniving to steal, forged and uttered the title documents of a property belonging to their late Sister, Mrs Sidikatu Odunsanya valued at N40m.
Police said Gbadamosi allegedly used the forged documents to sell the sister's property to one Akindele Ojo for N24.5m without the consent of the deceased children.
Olamide lives at Shipeolu Street area of Palmgroove, while Kehinde resides at Oyemekun Street area of Ifako, Agege, Lagos.
A Police source alleged that the Commissioner of Police, Lagos State Command, Edgal Imohimi ordered the XIID Operatives to arrest the accused persons following a petition by one of the children to the deceased, Mrs Ganiat Roberts that the accused persons unlawfully sold her late mother's property valued at N40m for just N24.5m with forged documents without the consent of the deceased children.
The accused persons were arraigned before the court on a four-count charge of felony to wit, stealing, forgery and uttering documents.
Police Counsel, Nosa Uhumwangho informed the Court in Charge No FHC/L/390c/2017 that the accused persons committed the offense in November, 2016 at 52, Shipeolu Street, palmgroove and 7, Osho Street, Shomolu, Lagos.
Uhumwangho told the court that Gbadamosi connived with her brother, Olamide who is a lawyer to steal the title documents of her late sister's property located at 6, Oketoyinbo Street, Ikosi-Ketu, Lagos entrusted in her care and used the documents to sell the property valued at N40m to one Akindele Ojo for N24.5m without the consent of the deceased children.
Uhumwangho said that the accused persons also conspired and forged a power of Attorney dated 4 October, 2016 in the name of Mrs Ganiat Oluwakemi Roberts and her siblings in respect of the property at 6, Oketoyinbo Street, Ikosi-Ketu, Lagos with intent that it may be used in anyway or acted upon as genuine to the prejudice of Ganiat Oluwakemi Roberts and her siblings.
He said that the offences, the accused persons committed were contrary to sections 465 and 468 and punishable under sections 516, 390 (8)(b), 467 (2)(e)(h)(m)(4)(p)(q) and 467 of the Criminal Code Cap, C38,Laws of the Federation of Nigeria,2004 as amended.
The accused persons, however, pleaded not guilty to the alleged crime in the open court and the presiding Judge, Justice Muslim Hassan granted them bail in the sum of N100,000 each with one surety each in like sum who must be on grade level 12 either in the Lagos State Ministry or Federal establishment.
Hassan adjourned the case till 24 January, 2018 for trial and ordered that the defendants be remanded in prison custody till they fulfilled the bail conditions.