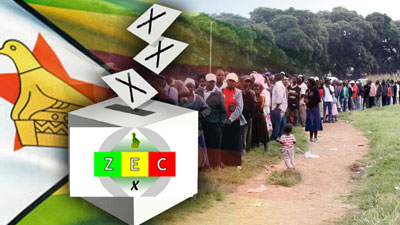 The Zimbabwe Electoral Commission (ZEC) said Wednesday over 4.7 million people have registered to vote in the 2018 elections.
(ZEC) said while mobile registration centres closed on Wednesday, registration is continuing at 63 static district centers across the country.
The commission had initially targeted to register seven million voters for the 2018 polls but it later admitted that the figure was unrealistic and revised it down to about five million.
There have been calls from various stakeholders including political parties for the registration blitz to be extended to accommodate many potential voters.
The state-run Herald newspaper quoted ZEC acting chairperson Emmanuel Magadu as saying that they expected to extend the blitz by a month to January 2018.
The electoral body has since requested 7.9 million U.S. dollars to fund the extended registration period.
Zimbabwe is using the biometric voter registration system for the first time to compile a new voters' roll. Thus all eligible Zimbabweans are required to register afresh for the 2018 polls.
In the 2013 elections, 5.8 million Zimbabweans were registered for the polls.
President Emmerson Mnangagwa, who in November over from former president Robert Mugabe, has been endorsed by the ruling ZANU-PF party as its presidential candidate for the 2018 elections.