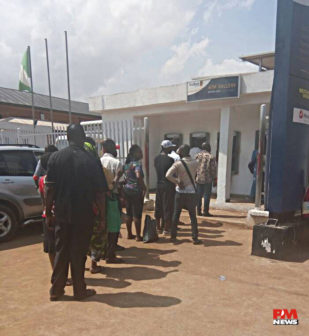 Residents of Kuje Area Council in the FCT, on Friday decried paucity of cash at the Automated Teller Machines (ATMs) in the area.
The residents revealed in separate interviews in Kuje that the scarcity of cash at the ATMs was worrisome, especially during yuletide when salaries were just paid.
They however urged commercial banks to load cash and install more Automated Teller Machines (ATMs) to ease the suffering of customers in the area.
ATMs of First Bank of Nigeria Plc, First City Monument Bank (FCMB) and Sky Bank Plc often witnessed very long queues of customers waiting to withdraw money.
A customer of First Bank, Kuje branch, Mr Solomon Tatari, said he had been in the queue for more than three hours and had yet to withdraw money to travel for the Christmas.
"The bank management is aware of the usual chaos when salaries are paid and ought to have made adequate provision, especially regarding availability of funds in the ATMs.
"It is unfortunate that we have very few banks in Kuje, and the available ones are not fed with money in the ATMs.''
Tatari said he did not expect the long queue at the bank as many Nigerians were complaining of an unhealthy economy with limited funds in circulation.
Similarly, Mrs Jumai Sani, a customer with FCMB, expressed frustration at the bank's failure to satisfy the quest of its customers queuing up for long hours.
Sani said that she had been on the queue for two hours and when it was her turn to withdraw money, the machine stopped dispensing cash.
"I don't know why other banks are finding it difficult to come and operate in Kuje; the town is fast growing and becoming saturated with commercial activities.
"The available banks are not also helping matters by not feeding their ATMs with enough money on regular basis.
"I have been standing on the queue for more than two hours and when it was getting to my turn, the cash got finished,'' she said.
A new generation bank, Skye Bank, located opposite the Kuje Area Council Secretariat had many customers in the banking hall as they could not withdraw from the ATM.