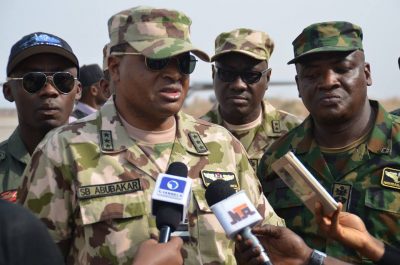 The Nigerian Air Force (NAF) has established an ultra modern gymnasium at its base in Maiduguri to improve the health status of servicemen engaged in counter-insurgency operation.
The Chief of Air Staff, Air Marshal Sadiq Abubakar, disclosed this on Tuesday during the inauguration of the project at the Air Force Base in Maiduguri.
Abubakar, represented by AVM Muhammadu Mohammed, the Chief of Policy and Plans in the Air Force, said the gymnasium was designed to prepare the servicemen to meet the challenges of the battle field.
"The project is intended to provide the necessary thrust for service men to contribute meaningfully towards our collective efforts at meeting the demands of national security as enshrined in the constitution.
"To encourage personnel to continue their arduous task in the frontline, there is need to provide a fitness centre where they can exercise themselves in order to maintain a balanced physical and mental alertness,'' Abubakar said.
He enjoined the service men to ensure effective utilisation of the facilities, adding that the service has initiated various projects to enhance personnel professional competence and sacrifice.
Sadiq said that apart from Operation LAFIYA DOLE, the service had been engaged and contributing to the success of various operations to enhance peace and security in the country.
He listed the operations to include Operation SAFE HAVEN, Operation AWATSE and Operation PULO SHIELD.
Sadiq tasked the service men to be steadfast and professional in the discharge of their duties so as to rid the country of security threats as well as improvement of the well being of the citizenry.
He also commended President Muhammadu Buhari over his support to the service and his commitment to end insurgency, maintain peace and stability in the country.
Also speaking, AVM IG Lubo, the Air Task Force Commander, commended the gesture, adding that it will go a long way to improve physical fitness and mental alertness of its personnel.
Lubo explained that the gymnasium was equipped with cutting edge facilities to meet the needs of its staff.
According to him, "the service has introduced sport competition to motivate its personal toward better performances.
"The Chief of Air Staff attaches priority to the fitness of personnel; it is unimaginable hence the introduction of combat sports competition in the Service.
"We thank the Chief of Air Staff for this noble project and for numerous similar ones in other Nigerian Air Force locations across the country".