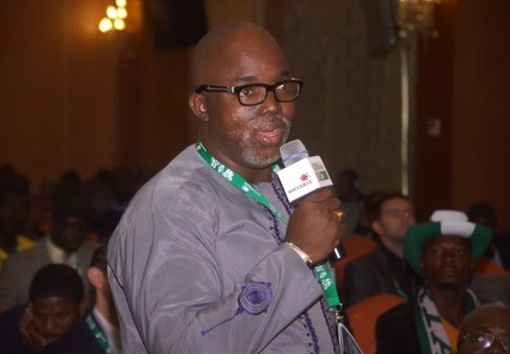 Some football enthusiasts in Ebonyi on Friday in Abakaliki urged the Nigeria Football Federation (NFF) to ensure the settlement of all bonus issues regarding the home-based Super Eagles before Jan. 13.
The home-based Super Eagles team is participating in the 2018 African Nations Championship (CHAN) in Morocco scheduled for Jan. 13 to Feb. 4.
The Eagles are in Group C alongside Rwanda, Libya and Equatorial Guinea, with their first match on Jan. 15 against Rwanda.
The football enthusiasts, in separate interviews with NAN, also suggested some ways of achieving a credible outing for the team at the competition which would be staged in four Moroccan cities.
Emmanuel Utobo, Director of Sports in Ebonyi, noted that the issue of bonuses and other motivational packages should be settled immediately to avoid distractions during the competition.
"The NFF should hold a meeting with the team's representatives to sort all contending issues, just like it did with the Super Eagles during its recent friendly match in Russia.
"History has shown that the greatest cause of Nigeria's dismal outings in major football events is bonus rows, and the NFF must curb this ugly trend,'' he said.
Supporting this assertion, Obumneme Anyaorah, a former goalkeeper, urged the NFF to accord the same attention given to the Super Eagles to the CHAN Eagles.
READ: Obaseki signs 2018 budget, promises 95% completion
"Nigerians are expecting the team to win the competition since its best outing of a bronze medal finish in South Africa 2014.
"Winning the competition will place the Eagles in a good stead before 'Russia 2018' begins. It will equally provide players who will equitably compete for places in the World Cup-bound team," he said.
Brendan Okugbo, a hotelier, advised the team's handlers to consider experience more in selecting the final team for the competition.
"The team was not actively engaged since the last WAFU competition in Ghana and introducing several new players will be counter-productive.
"The players should concentrate optimally during the competition and avoid distractions occasioned by bonus-rows, among other factors," he said.
Eunice Una, a pharmacist, called for adequate exposure of the players before the competition.
"The NFF, in addition to settling all allowance-related issues, should ensure that the players are adequately exposed for the task ahead.
"We must avoid the WAFU Cup experience in Ghana where the team excelled but crumbled in the final against the hosts who had their vociferous supporters behind them," she said.