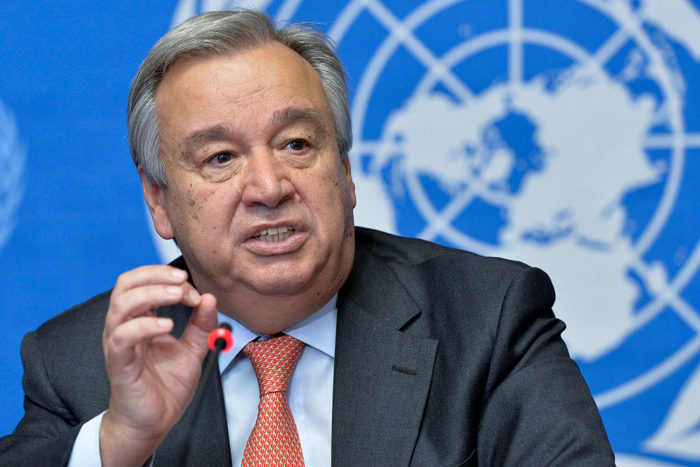 UN Secretary-General Antonio Guterres has condemned Friday's attack in Egypt outside Mar Mina church in the Helwan district, south of Cairo.
In a statement, Guterres also extended his deepest condolences to the families of the victims and to the Government and people of Egypt and wished a swift recovery to those who have been injured.
The secretary-general called for those responsible for the attack to be swiftly brought to justice.
A gunman on a motorcycle opened fire on Friday outside a church in a Cairo suburb and at a nearby store, sparking a shootout that killed at least nine people, including eight Coptic Christians, Egyptian authorities said.
The gunman was also killed, along with at least one police officer, officials said.
The attack began when the gunman tried to break through the security cordon outside the Coptic Church of Mar Mina.
It was not clear how many assailants were involved but while Egypt's Interior Ministry referred to only one, the Coptic Orthodox church mentioned "gunmen".
Five people were wounded, including another police officer, Health Ministry spokesman Khaled Megahed said.
The attack came amid tightened security around churches and Christian facilities ahead of the Coptic Orthodox Christian celebrations of Christmas on Jan. 7, 2018.
Police have been stationed outside churches and in nearby streets across Cairo.
President Abdel-Fattah el-Sissi has personally chaired meetings with his top security chiefs in recent days to discuss security during New Year's Eve and the Orthodox Christmas.
The interior ministry identified the assailant as Ibrahim Ismail Mostafa, who, the agency said, was involved in several previous militant attacks.
The ministry also said he was wounded and arrested but made no mention of his death, which was reported by the Health Ministry.
The assailant had earlier opened fire at the nearby store owned by a Christian, the ministry said.