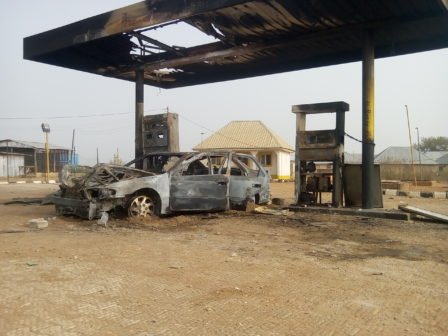 MC MANAKAI filling station in Abuja has been gutted by fire. The station was one of the petrol stations in Bassa Village, Airport Road, sealed by officials of the PPPRA for hoarding petrol.
The petrol found in the tank was later dispensed free of charge to motorists.
PMNEWS gathered that the fire at about 6.30pm on Monday when an air force officer was filling the tank of his Toyota Camry with the free fuel.
An eyewitness disclosed that after the officer filled up his tank and was in the process of filing two extra jerry cans at the back ofthe vehicle, the car exploded.
All the security officers guarding the station and those dispensing petrol fled the scene.
Fire service men later arrived at the scene to ut ot the fire.