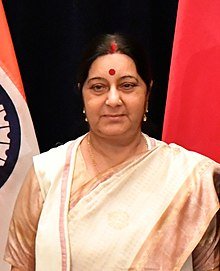 India said on Thursday that it rescued three Indian and seven Nepalese girls from Kenya who fell victims to an organised human trafficking syndicate in Africa.
Indian External Affairs Minister Sushma Swaraj said that the 10 girls had been flown back to their respective countries soon after their rescue and also thanked the Kenyan Police for its cooperation in the operation.
"We have rescued three Indian girls from Kenya. The girls were victims of an organised crime syndicate that indulged in trafficking of girls.
"Seven Nepalese girls were also rescued. Their passports and phones were taken and they were held captive in Mombasa,'' she tweeted.
"We have flown our girls back to India,'' the minister added.
The 65-year-old minister is well known for reacting quickly to distressed calls for help from Indians living or travelling abroad.