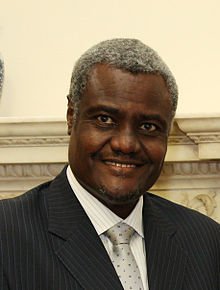 The Chairperson of the African Union Commission, Moussa Mahamat on Friday, welcomed Ethiopia government's decision to pardon and suspend ongoing judicial cases against members of political parties and other individuals.
According to Mahamat, the announcement made by the Ethiopian Prime Minister, Hailemariam Desalegn, to pardon or suspend ongoing judicial cases of members of political parties and other individuals is an "important and farsighted decision."
He commended the Ethiopian authorities for this important and farsighted decision; and for their commitment to foster national consensus and widen the democratic space.
According to Mahamat, these steps will also enhance the country's stability, which is of "paramount importance for the region and Africa as a whole."
Mahamat further called on all Ethiopians, irrespective of their political affiliations, to embrace and sustain the spirit of forgiveness and unity in the interest of their country.
Ethiopian Prime Minister Hailemariam Desalegn, together with leaders of the four parties that make up the ruling party, the Ethiopian People's Revolutionary Democratic Front, has announced the decision on Wednesday.
The decision was said to promote national unity, dialogue and reconciliation among Ethiopians.
Desalegn also disclosed the shutting down of the notorious detention center, known as Maekelawi, which had been serving as Ethiopia's main investigation center since the Derg regime.
The prime minister also indicated that by turning Maekelawi into a museum, the government will set up another investigation centre in line with the Ethiopian constitution and the country's human rights laws.