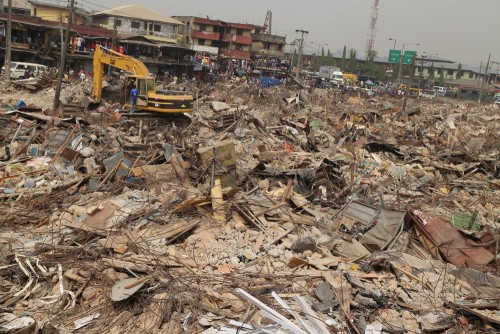 Some residents of Igbogbo in Ikorodu community, a suburb of Lagos, whose houses were demolished in Dec. 2017 have appealed to the state government to hasten the payment of their compensation.
They made the appeal in an interview with the News Agency of Nigeria (NAN) Lagos on Thursday.
The houses were demolished to give way for the rehabilitation and expansion of roads in Ikorodu West and Igbogbo/Baiyeku Local Council Development Areas (LCDA).
Speaking with NAN, a traditionalist, Mr Raheem Alakete, 88, expressed his displeasure and urged the state government to urgently compensate them.
"This house that was demolished was willed to me by my great grandfather, although we were informed of the demolition, but we thought the compensation will come immediately.
"Now am homeless, I am squatting in the neighbourhood,'' he said.
Another resident, Mrs Remilekun Akadri, 64, also a landlady who was seen picking shackles from the remains of her building said she has nowhere to live as she has lost her only daughter two years ago.
"I am picking this to fend for my livelihood; I am selling some to gather money to rent an apartment.
"I beg the government to approve the compensation on time so that I can have a place to rest my head,'' she said.
Mr Alimi Eluku, who described himself as father of five boys also appealed to the government to pay the money to alleviate their suffering.
"Since the demolition of our houses, we have been sleeping in friends' houses, and you know all these can make a child to join bad gang if not properly monitored.
"I appeal to the government to hasten the payment of this money so that we can get new apartments for ourselves.
"Although we have been given three months notice but we didn't know it will be so fast like this,'' he said.
Meanwhile, Chief Monsuru Oluwaseyi, Baale of Ofin-Ile, said, "It is a project that has been expected to take place before now.
"Our people should bear with the state government because the project, after completion, would improve the social and economic well-being of the people.''
He assured that affected property owners would be compensated.
Structures including NIPCO Petrol Station, Methodist and Apostolic Church buildings and many ancient buildings have been completely demolished.
Also, some important traditional and social buildings like Adeboruwa king's Palace, Orisha-Oja (market god's shrine), Igbogbo Primary Health Centre were also demolished.
Many historic buildings, shrines, religious houses and heritages which were found to have fallen within the right of way had either been pulled down or marked for demolition.
The road, after completion will serve as a link among several communities such as Owutu, Ipakodo, Igbogbo Ijede, Gberigbe and Imota.
The road expansion will consist of four lanes with seven standard dedicated lanes for cyclists and three pedestrians' bridges.