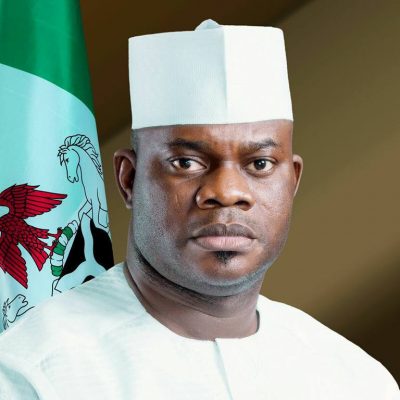 Kogi Government in collaboration with various security agencies had recorded tremendous success in checking criminal activities in November and December 2017.
Gov. Yahaya Bello of Kogi, who stated this to State House correspondents in Abuja on Friday, said state's crime statistics covering the affected months indicated that the state recorded no single case of armed robbery or kidnapping in the months under review.
According to him, an attempt to snatch a vehicle from a citizen sometime this week was however frustrated by a combined team of security agents keeping the peace in the state.
"In Kogi State today we have done tremendous work as far as security is concerned.
"In the months of November, December and this January, there has not been any single case of armed robbery, kidnapping even mere stealing.
"One attempt was made, as I speak the DSS in collaboration with Army and Police have apprehended a particular gang that attempted to snatch a vehicle from a citizen.
"The security operatives are collaborating with us, we are spending a lot on security.
"So collaboration between the security agencies and understanding by the people, they are giving us a lot of information and we are treating them with utmost secrecy and we are working harmoniously together,'' he said.
The governor announced that the Fulanis in Kogi were equally collaborating and assisting the security organisations in apprehending criminal elements within and beyond their enclaves.
He said: "So we are living very harmoniously with the Fulani herdsmen, farmers and the citizens.
"Travellers are safe day and night because anywhere you go you see security operatives and we have even vigilantes, hunters that are equally assisting us in our farms and so many other deserted areas.So, Kogi is very safe.''
Bello dismissed social media reports that he gave masquerades N2 million and vehicle each, adding that there was nothing of that nature at all.
"I think I'm just hearing that for the first time. But let me just tell you that in Kogi State, first we promote culture, two we don't give millions to masquerades.
"In our culture Masquerades are ancestors, I don't know how a masquerade will go and spend money? Is it in the grave?
"They are supposed to be spirits and I don't know how masquerades will spend money. There is nothing of that nature at all,'' he said.
On the forthcoming 2019 general election, the governor disclosed that Kogi had already endorsed President Buhari for the presidential election in 2019.
President Buhari is from Daura in Katsina state, but the votes that would come out of Kogi would dwarf that of Katsina state.
I'm sure you are following us as we are receiving decampees from PDP and all other political parties.
"And any time we hold any decamping rally in any local government you will see the mammoth crowd that will turn out.
"So Kogi State has already endorsed President Buhari for second term, we are just waiting for the time to come.
"You are going to see the votes that will come out of Kogi State, it will dwarf that of Katsina State I can assure you.''