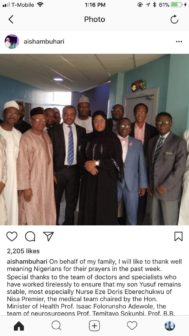 These are the doctors and medical experts treating injured Yusuf Buhari, the only son of President Muhammadu Buhari.
They consist of three professors, including the Minister of Health and other medical experts the country can boast of. Just for one person, the only son of the president who was involved in an accident while riding a bike at odd hours in Abuja last month
In a country where the health sector is in comatose, the son and the daughter of the commoner cannot get this kind of treatment.
So, on Friday, Aisha, wife of the president, took a photograph with the experts to show her gratitude to them for stabilising her only son.
Read Aisha's full statement below:
"On behalf of my family, I will like to thank well-meaning Nigerians for their prayers in the past week.
"Special thanks to the team of doctors and specialists who have worked tirelessly to ensure that my son Yusuf remains stable, most especially Nurse Eze Doris Eberechukwu of Nisa Premier; the medical team chaired by the Honourable Minister of Health, Prof. Isaac Folorunsho Adewole; the team of neurosurgeons, Prof. Temitayo Sokunbi; Prof. B.B. Shehu; Dr. Biodun Ogunbo and Assistant Prof. M.Raji Mahmud; the team of orthopaedic surgeons, Dr. Felix Ogedengbe and Dr. Akinola; the intensivists, Dr. Simon Esangbedo; the Personal Physician to the President, Dr. Suhayb Sanusi; my personal physician, Dr. M. Kamal and the nurses have all ensured that he remains stable while receiving treatment.
"Also many thanks to Dr. Jaf Momoh CMD of National Hospital Abuja and his team for their continuous support."