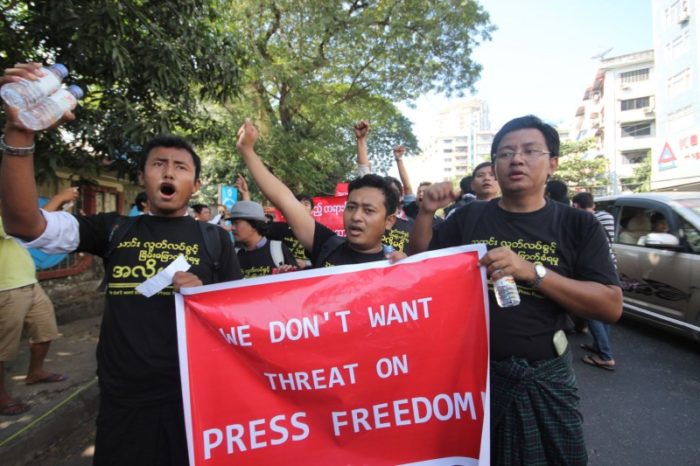 Journalists in Myanmar are planning to demonstrate against infringements on press freedom at a court hearing scheduled for Wednesday for two reporters according to organisers.
The reporters were arrested under the country's Official Secrets Act.
"We stand with those two reporters, they were just doing their job and the government should release them,'' the founder of the Protection Committee for Myanmar Journalists, Hlaing Thit Zin Wai said.
Hlaing said that he expected 100 people to attend the protest, saying that local authorities had already been informed.
Reuters reporters Wa Lone and Kyaw Soe Oo are being held in Insein Prison on the outskirts of Myanmar's largest city, Yangon, after they were arrested on December 12 under the colonial-era Official Secrets Act for allegedly possessing documents on the military crackdown.
The document that has seen more than 655,000 minority Rohingya Muslims flee Rakhine State.
They face a maximum prison sentence of 14 years.
President and Editor-In-Chief of Reuters, Stephen J Adler, reiterated calls for the reporters' release, saying "it remains entirely clear that they are innocent of any wrongdoing,'' according to a statement on Reuters' website.
With at least 11 journalists arrested this year alone, onetime democracy icon Aung San Suu Kyi has been accused of a backsliding in press freedom since her National League for Democracy party took power in 2016.
"Press freedom is very important for our country, those Reuters reporters are not enemies of the state, they are not spies, they didn't break any law,'' said Hlaing Thit Zin Wai.
Load more