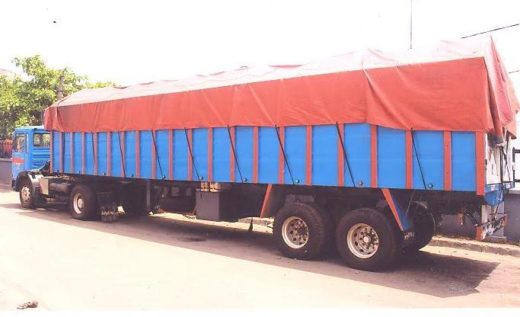 The Federal Operations Unit, Zone 'A'  Ikeja  of  Nigeria Customs Service (NCS), intercepted contraband goods with Duty Paid Valued (DPV) of N5.96 billion between January and December 2017.
The Public Relations Officer of the Unit, Mr Jerry Attah, made this known on Monday in a statement in Lagos.
Attah said that  the figure was arrived at from intercepted goods and interventions which led to duty payments and Demand Notices on  general goods that tried to beat the system from seaports, airports and border stations through wrong classifications.
"The transfer of value and shortchange in duty payment that are meant for the Federal Government of Nigeria made a cumulative  total of N5.96 billion in one year.
"In 2017, a total of 179 suspects were arrested in connection with these 1,046 different seizures, comprising foreign parboiled rice, frozen poultry products, vegetable oil, smuggled vehicles, Indian hemp, arms, fake pharmaceutical/medicaments and various general merchandise," Attah said.
The Controller of the Unit, Comptroller Mohammed Garba, said 2017 recorded the highest seizures and revenue so far in the history of the command in spite of the  challenges faced.
Garba attributed the feat to the leadership of the Comptroller-General of Customs, retired Col. Hameed Ali,  and the entire management of the Service for their efforts in recognising hard work.
READ: OAU resume academic activities as students resume
According to him, without the management's motivation and necessary logistic  support,  the Service  would not have achieved the  feat within the  period.
Garba also commended the commitment and diligence of the officers and men of the FOU Zone 'A' for thwarting the antics of some smugglers.
He further charged his officers to be professional and diligent in performing their statutory responsibilities in  2018.
Garba urged officers to be committed, especially in the area of anti-smuggling operations,  by making sure all revenue leakages were blocked.
The controller said that all hands should be on deck in the fight against economic saboteurs who meant no good for the economy.
"Smuggling is a global phenomenon  which cannot be curbed entirely but can be brought to its barest minimum.
"We appreciate all security and sister agencies (Nigerian Army, Nigeria Police, NDLEA, NAFDAC, SON) that rendered logistics support and cooperation toward winning the war against smuggling within the South West zone.
"I warn  all smugglers and their accomplices to desist from such illegality and invest their money in legitimate business  as the Unit has  devised other operational modalities that would give them a run for their money and count their losses, if not jailed.
"For the avoidance of doubt, the policy banning the importation of vehicles and rice through the land borders is still in force and we are ever ready and equipped to enforce these policy  to the letter," Garba said.
He commended the media for its support through  prompt reportage in 2017.
The controller called for media's continuous partnership with the Service in the advocacy campaign against smuggling.
Load more