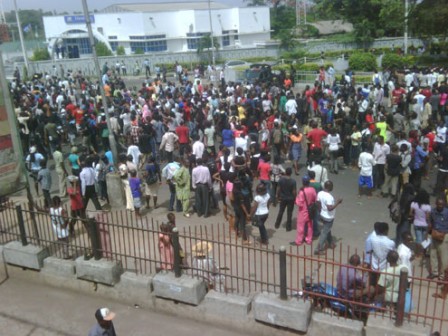 Gbenro Adesina/Ibadan
University of Ibadan Campus Journalists, UCJ, has expressed concern over incessant strikes which disrupted the institution's academic calendar last year.
In a statement titled, "Matters arising: On the perceived disruption of forthcoming exams, signed by UCJ President, John Akinteye, the journalists noted that the 2016/2017 academic session in the University of Ibadan has not had a smooth sail so far as there have been several incidences of industrial actions by all labour unions on campus (ASUU, NASU, SSANU, NAAT, SU…), thereby leading to several disruptions of the academic calendar.
The group also noted that the institution's academic calendar which started on February 20, 2017 has dragged on for a year, adding that of all these strikes, that of May 29 2017 orchestrated and executed by the Ojo Aderemi – led administration stands out.
"The Union, aggravated by the non-issuance of the paid for I.D cards by the school management, poor welfare conditions, non-allowance of hotplates amongst other issues of contention, protested and was subsequently suspended indefinitely by the University Vice Chancellor via Diamond FM on behalf of the University Senate on May 30th.
"Consequently, students were sent home for five weeks after which they were asked to resume back to school to write the first semester exams. It should be recalled that upon resumption, a proposed NANS protest scheduled for 3rd July which had heightened tensions of the feasibility of exams then was later suspended. Thereafter, several members of the Students' Union and the Students Representative Council have received SDC query letters for their involvement in the May 29th protest. Since then, students have yearned both actively and passively for the reinstatement of their beloved Students' Union, which till now remains suspended", the group stated.
"In a twist of events, on January 2nd of this new year, the generality of Unibadan students woke up to read the passive threats to prevent exams from holding by the "Guerrilla Students' Movement" – a body (be it ghost or existing) hitherto unknown. Its demand include the immediate reinstatement of the student union, suspension of the second semester examinations, immediate reprieve for all those who were served disciplinary queries for their participation in the May 29th protest and that student welfare be attended to. In a swift response, the Vice Chancellor made an immediate response to the widely circulated broadcast commenting that "This looks more like a smokescreen of students who are not prepared for exams. We are in an unusual circumstance when a session is dragging almost indeterminately…. It is important that we go ahead with the 2nd semester exams. We have had too many disruptions of the academic calendar already. Our students have suffered more than enough already."
"In a similar development, JAC (NASU, SSANU & NAAT) embarked on industrial actions since December 2017 over disagreement with the ASUU and indications were rife (beginning from this year) that they would disrupt exams on campus in protest of their perceived injustice. Incidentally, in line with these developments, students have been unavoidably in doubts as to whether the second semester examinations would hold as scheduled or not or be disrupted as threatened and rumoured.
"Amidst the rising tensions on campus, on January 6, during the later part of the day, www.skillzah.com published a short article (now deleted) with the controversial heading *"ex-su-president-to-disrupt-academic-activities-on-Monday."* In a corroborative claim, Ojo Aderemi was rumoured to have attended a NANS senate sitting on that same day where it was decided that NANS, Oyo chapter in a motion moved by the president of Polytechnic, Ibadan would collaborate with NASU, UI chapter in their demonstration to disrupt exams if the very same conditions explicit in the " "Guerrilla Students' Movement" are not met.
"On Sunday 7th, very early in the morning, the Vice Chancellor, Professor Olayinka reacted sharply in very clear terms via a broadcast on his Facebook page to the perceived rumour above. He added that students who get involved do so at their own risk. This has heightened the tension and with the mutual suspense and uncertainty pervading the citadel of learning, it became imperative that exams are unlikely to hold, a situation which has generated unrests on campus. The principal officers of the UCJ UI in a mutual reach out with the Vice Chancellor yesterday evening was able to strongly affirm that exams will hold as scheduled. The Vice Chancellor is quoted to have said that, "… adequate security measures are being put in place. The police are on top of the situation. We are not leaving anything to chance." He further added that if the generality of students want to write exams, why should a few hold them to ransom? – a reference to the popular belief thus proven right that the majority of Unibadan students want to get done with the boring and elongated session and move on.
"Acting on the alleged but seemingly true rumour that NASU was to convene a congress between yesterday, Sunday 7th January and today Monday, 8th January, UCJ UI president – John Akinteye put a call through to the chairman of the Union, Comrade Segun Arojo. In their consequent meeting, he stated that the "proposed congress" was suspended because of his doubts with regards to the reactions and decision of the congress which he might not be able to veto and could hence, inadvertently make the protest and disruption inevitable. So, indirectly via his body language, we can say a protest from their end was forestalled, thus giving more assurance of the feasibility of exams.
"Also, in a short impromptu interview with Ojo Aderemi yesterday evening, he strongly denied every claim of instigating NANS to come to UI and cleared the air about any plot by NANS to disrupt the forthcoming exams. He said, "I am recognised as a NANS senator until a new leadership emerges according to the constitution. NANS, however, is not storming UI tomorrow as rumoured. There will be no disruption of exams. I am personally not in support of disruption of exams, in fact, my bag is full of books, I'm going to read for my exams." However, he maintained in clarity, that NANS will be intervening by engaging the administration on the reinstatement of the union, the numerous cases of those wrongly punished and other bothering issues. He also pointed out that he was not the only student involved in NANS activities, representing UI, saying that there were about four others being carried along. He added, "Not forgetting that NANS, which is the umbrella body of all Nigerian students, has a duty to protect its members if the body deems it fit, and that I am not opposed to NANS intervention. But common sense requires that things have to be done accordingly, and I know for a fact that NANS, as an intellectual body, respects such.
"When asked for his reactions on the VC's message, he asked that he would love that it be left to the court of public opinion, stating that "it has an unprecedented direct impact on him; he never expected such and so was caught unawares." He however added that he would send a disclaimer to that effect as soon as possible, which he has done. UCJ UI received reports that Ojo Aderemi was at Abefele's office yesterday evening for some undisclosed reasons which he later explained that a call was put through to him by the Deputy CSO to answer some questions about the rising tension on campus and to clear the misinformation about recent happenings on campus such as the rumoured NANS invasion being alleged to have been instigated by him. He said he explained to them as things are and he only 'made an appeal' that he wasn't orchestrating any examination disruption mechanism as against earlier reports we had that he wrote a statement.
"Worthy of note is that a release made by NANS yesterday evening contained the following: "we are aware of the situation in which the University of Ibadan is in right now and for the sake of the records our intervention is due. Therefore, we are coming for the purpose of liberating the students of the University of Ibadan. Still along the line of the foregoing, NANS can not be used by any person for selfish interest but in the interest of all members. There is an organised structure of Leadership and without the desperate call of Students within the University We cannot enforce a will. However, students have consistently called on the body and a space has been made for reconsideration. Therefore We Are Coming…. The intervention does not revolve around him (Ojo Aderemi) as it has been made a long time ago.
"From all indications, late last night, verified reports has it that NANS had a meeting with the Vice Chancellor, Professor Olayinka and while the outcome remains unknown, a NANS correspondence has wished students "well" in their exams leading to the inferential conclusion that the conflict has been resolved. For the sake of clarity, in a lengthy phone call conversation with NANS SSA on media and strategy, Comrade Awolusi Gideon – Temmy Gista, he debunked the rumours foregoing, clearly stating that, "NANS was coming for intervention and not disruption" as widely believed.
"Gladly, with all roads cleared, the Union of Campus Journalists hereby implores everyone to study hard for the exams and hope for the best, once again. However, UCJ UI won't rest on her oars to ensure that situations which led to the instability and social cum mental unrest on campus will be looked into with the management and students will be kept updated".