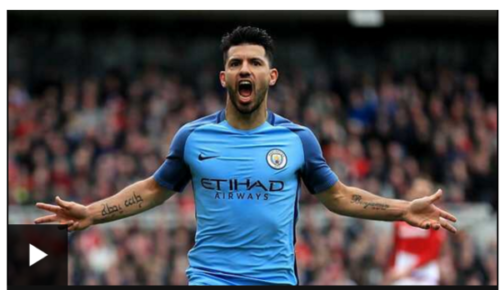 Manchester City forward Sergio Aguero's last-gasp strike secured a 2-1 victory over Bristol City in their English Football League (EFL)  Cup semi-final first leg on Tuesday.
This was after the second-tier side had frustrated the English Premier League leaders for most parts of the match.
Manchester City, who have dished out a string of maulings in a stellar league campaign, found the Championship side a tough nut to crack.
They had to wait until the second minute of added time to grab the winner when Argentine substitute Aguero slipped in to head home.
The visitors had opened scoring with a penalty kick just before half-time after central defender John Stones had fouled Bobby Reid, who dispatched the spot kick with aplomb.
Kevin De Bruyne's equaliser soon after the break turned the tide.
Manchester City then laid siege to their opponents' defence in the closing stages, before Aguero's goal gave them a vital advantage ahead of the return leg in two weeks' time.
Manchester City manager Pep Guardiola, in his post-match reaction, noted that the game was a difficult one, adding that it was not over as the second leg in Bristol would be even tougher.
READ: Zinedine Zidane is French coach of the year
"My players were fantastic because in football you can win, you can lose, but we tried until the end.
"We win many games in the last minutes because we don't give up. A semi-final is always complicated.
"I said congratulations to Lee Johnson on full-time, because they are a fantastic team for many reasons.
"They can play, they are fast, they know exactly what to do. It will be tough in Bristol.
"Every team creates problems. Wolves, Huddersfield last season, tonight too."
"It's a semi-final, I don't care what the competition is, it's a semi final. So, it's not easy to reach and we knew they would be difficult opponents.
"We created a lot of chances and that's why we won in the end. But today we knew we are not going to finish our job — that will have to happen away in Bristol when we travel there.
"They were really good, so we tried so hard, all the players tried and we're really happy."
Bristol City manager Lee Johnson praised his team for putting up a good performance against the Premier League leaders, saying they had shown the world that they were good footballers.
"Very proud of my team. Disappointed with their goal late on but the boys were magnificent. We came here and tried to play our game and caused a few problems.
"You concede possession now and again because of the quality of the opposition. It is only half time and we are well in this tie.
"I said to them 'you've been fantastic. We rode our luck but we broke and got men in the box. The pressing was amazing for the first goal.
"They can't be disappointed as we are still in the tie. They have shown the world we are good footballers."
"They showed confidence and weren't frightened to be on the ball. Pep Guardiola said to me that we played better than most of the Premier League teams that come to Manchester City.
"We will take an awful lot from it and learn a lot. It is not over. It will be an interesting game at Ashton Gate.
"The away goal was very important. We tried to score and certainly didn't park the bus. The lads have to go home and think we can kick on from this performance," he said.