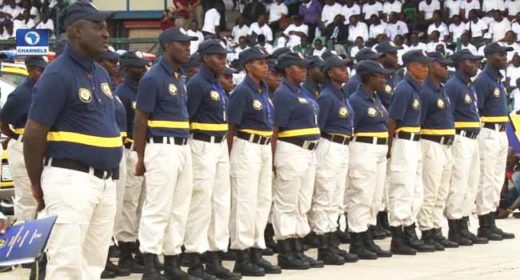 The Lagos State Neighborhood Safety Agency has foiled a robbery attempt and theft of electricity equipment belonging to an electricity distribution company.
The robbery attempt which was foiled by the safety corps officers attached to Epe division, Ibeju-Lekki, occurred on Dec. 25, 2017 at about 1. 00 a.m.
The Chairman of the agency, retired DIG Israel Ajao, said the agency had received a call from one Almubaraq Olalekan to request for officers to safeguard some electricity equipment to be installed in the area.
"Some electricity distribution officials had come to install some equipment at Imagbon-Alade town, Ibeju-Lekki and kept the equipment at the Baale's house.
"In view of the request, three Neighborhood Safety Corps officers were deployed to the place.
"Intelligence gathering revealed that some hoodlums that heard of Gov. Akinwumi Ambode's rural electrification project planned to steal the electricity equipment kept at the Baale's house.
"On Dec. 25, 2017, at about 1.08 a.m., the Neighborhood Safety Corps officers saw one tricycle with reg. No. GGE 840 QD parked in front of the Baale's house where the equipment were kept.
"Four men came down and two of them passed through the left side of the house, moved straight to the window where the equipment were kept and forcefully tried to open it.
"In the process, the corp officers apprehended two of them while the other two escaped.
"When the tricycle was searched by the corps officers, a gun loaded with one cartridge was found in the back seat," he said.
READ: Photo News: Fayose tells hunters to protect Ekiti against herdsmen
Ajao added that the suspects, Ishola Lawal and Omotosho Quadri, both natives of the same neighborhood, were immediately handed over to the nearest police station along with other exhibits recovered from the scene.
One other suspect, Ilori Adeyemi, a native of the same neighborhood, was arrested on Jan. 9 following increase in surveillance.
The suspects told newsmen that he is a member of the Eye Confraternity but had no idea a gun was in the tricycle which he was riding with other arrested suspects.
"Shola and the other person came to pick me at Eleko beach, I had no idea there was a gun in the Marwa. I saw others running shortly after we parked the tricycle and I joined them.
"I am a member of the Eye cult group but I was just initiated and asked to pay N5000 before I can be a full member," Adeyemi said.