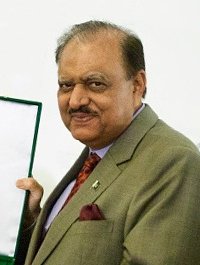 Pakistan has suspended military and intelligence cooperation with the U.S. amid the diplomatic tensions between Islamabad and Washington, Pakistani Defence Minister Khurram Khan said.
Speaking at at the Institute of Strategic Studies in Islamabad, Khan said that the U.S. was using Pakistan as a "scapegoat" for its failures in Afghanistan in spite of spending billions of dollars in the conflict-torn state.
Khan's speech was broadcast by local 92 News channel.
"We have suspended a full scale cooperation of our defense ministries and intelligence departments.
"Pakistan does not want to put a price on its sacrifices but wants them to be recognized," the minister said.
Khan said that Pakistan will not allow the continuation of Afghanistan's war on own territory.
Pakistan's move comes in the wake of partial freezing of US financial aid to Islamabad.
On Monday, Pentagon spokesperson Col. Robert Manning told reporters that some 900 million dollars in U.S. funds meant to reimburse Pakistan for counterterrorism operations would not be released until Secretary of Defence Jim Mattis was persuaded that the country was fighting terrorist groups and not harboring them.
On Jan. 1, President Donald Trump accused Islamabad of providing "safe haven to the terrorists" despite multibillion U.S. assistance to Pakistan.
On Jan. 4, State Department spokesperson Heather Nauert said that the United States was suspending the delivery of military equipment and security aid to Pakistan.
According to her spokeswoman, such a measure was a response to the local authorities' insufficient measures in the fight against terrorist groups.
Load more