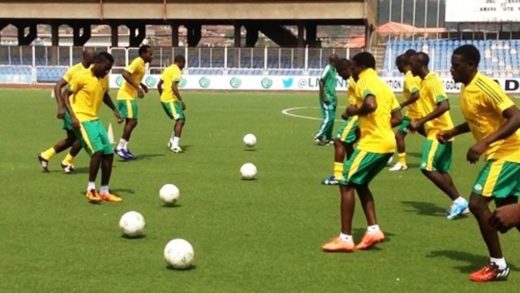 Kwara United Football Club of Ilorin on Thursday unveiled 17 new players it recently signed on ahead of the 2017/2018 Nigeria Professional Football League (NPFL).
The players were unveiled at a colourful ceremony held at the Kwara Sports Council premises in Ilorin.
At the occasion, the State Governor, Abdulfatah Ahmed, charged the players and the club's technical crew to take up the responsibility with utmost seriousness.
Ahmed, represented by the State Commissioner for Sports and Youth Development, Bolakale Ayo, advised them to see their recruitment as a win-win situation to develop themselves and further promote the club.
He assured them of putting in place a conducive atmosphere which would help to ensure the success of the club in the new season.
In his remarks, the Chairman, Kwara United Football Club, Oladimeji Thompson, said the club was ready to prosecute the league to the admiration of football stakeholders in the state.
Thompson called on all football stakeholders in the state to exploit the enormous benefits in the football game.
READ: Rangers International unveil new players for 2017/2018 NPFL season
"I appeal to residents of the state to put aside differences and work collectively for the progress of team,'' he said.
The Kwara United chairman thanked the state governor for the support given to the team at all times.
The new players include Babangida Ibrahim, an attacker from Nasarawa United, Chima Uluocha, a midfielder from Abia Warriors, and Chinedu Chukwu, a defender from Abia Comets.
Others are Kayode Agboola, an attacker from Shooting Stars, Mudashir Olamide from Kwara United Feeders and Musa Abdulateef, an attacker from Adamawa United.
Responding on behalf of the players, Aminu Abdulkadir, a midfielder who joined from Nasarawa United, assured that the team would not disappoint the people of the state.
"We have put in some necessary efforts to succeed when the league starts on Sunday across the country,'' he said.
Meanwhile, the Kwara United chairman has assured that the team would honour their game in the opening week of the 2017/2018 NPFL on Sunday.
This will be in spite of the club's unfortunate auto crash on Wednesday in Ibadan on their way from Lagos.
The team's bus was involved in an auto crash at the Moniya area of Ibadan, which left three members of the team injured.