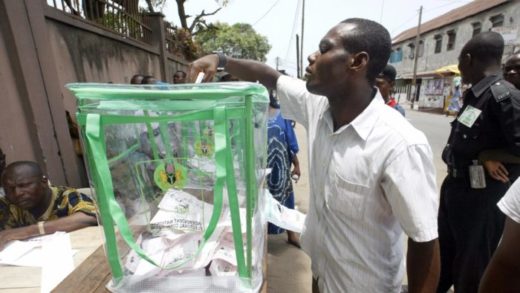 A group, known as Yoruba Council of Youths Worldwide (YCYW), has urged the youths to get involved in leadership process and shun violence as the 2019 general elections approach.
Mr Aremo Hassan, the President of the group, made the call on Thursday in Lagos, following the release of the 2019 election timetable by the Independent National Electoral Commission (INEC).
According to the timetable, the Presidential and National Assembly elections will hold on Feb.16, 2019 while the Governorship and State Assembly elections will be conducted on March 2, 2019.
"The Nigerian people, especially those of the voting age should go and register at the nearest INEC office to them and vie for leadership positions.
"There is the need for us to conduct ourselves rightly ahead, during and after the process by shunning evil acts of electoral malpractices and violence.
"We need to take this rear advantage to scout for good leaders whose interest is centred first on the people; we should ensure to vote wisely.
"We are all stakeholders when it comes to election rituals, for this is another golden opportunity to elect excellent performance, qualitative leadership and good governance.
"We need to alternate where we have bad records by voting out those that failed to deliver real dividends of democracy to the people,'' he said.
Hassan, a legal practitioner, commended the timely release of the 2019 elections timetable, saying there was the need to create level playing ground for all candidates and political parties.
"It is imperative to advise the politicians to take due advantage of the timetable to prepare themselves and shelve any acts of criminality and monetisation of the process.
"All parties need to align their programs in conformity with INEC's set guidelines and laws, by conducting their conventions and party primaries accordingly,'' he added.
The youth leader said that the people remained the legitimate key drivers of elections globally, adding that Nigeria was no exception.
Hassan called on the Federal and State Governments to provide INEC with enabling support in terms of funding, security and infrastructure to ensure a hitch-free exercise.
According to him, the support should be without any biased motives, duress, undue influence and interference that could negatively affect the overall success of the electoral process.