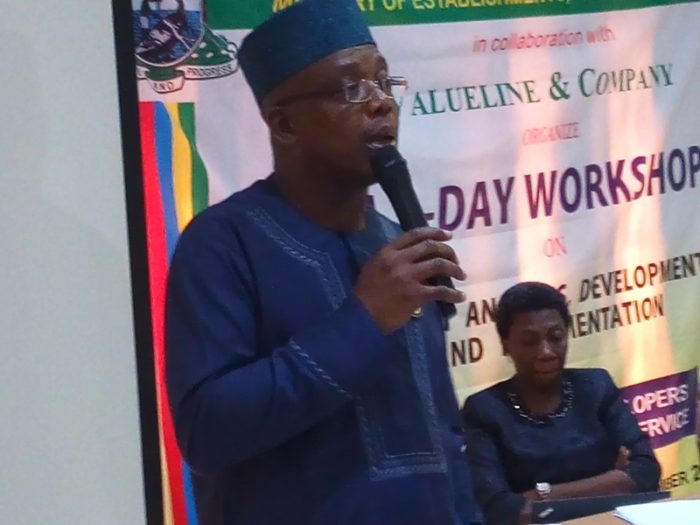 Lagos State Governor, Akinwunmi Ambode on Thursday charged public servants on the need to embrace effective communication in a bid to prevent crisis in the public service.
Ambode spoke while flagging-off  a two-day training for public servants, held in Ikeja, Lagos, Southwest Nigeria.
The governor, who was represented by the Commissioner for Establishments, Training and Pensions, Dr. Benson Oke said in today's world, it was indisputable that a strategic public service leader must be able to act as a communication champion and a sense giver rather than just as an information processor.
"He/she must be able to use key elements of effective listening and understand why listening is important to communication; he/she must be able to utilize candor to appropriately improve communication effectiveness, and recognize and apply the difference between dialogue and discussion; he/she must be equipped to incorporate metaphor and storytelling into leadership communications, select an appropriate communication channel for the message and effectively use social media and non-verbal communication. Furthermore, and perhaps, most essentially, he/she must be able to effectively communicate during times of stress or crisis.
"Where leaders do not possess the attitude, aptitude and skills that are relevant for the times, they become fundamentally flawed in any attempt to craft a beneficial and compelling vision for their organizations. And, as we all know, in the absence of vision, the people perish as the institutions become rudderless and their journey becomes one without a map," he said.
Ambode stated that the benefits that leadership skills could bring included the ability to resolve conflict, negotiate effectively for the benefit of the organisation, the aptitude to innovate and the skill to communicate quickly and effectively.
According to him, trained, visionary and, therefore, strong leaders would also beneficially impact their organisations by being able to inspire the people in the organization to enthusiastically buy into the vision crafted by the leadership, adding that there is no effective leadership without a mobilised and enthused followership.
"A strong leader who resolutely believes in the vision of the organisation will magnetically attract followers who will join the movement to fulfill the mission and realise the vision. This calls for the presence of excellent communications and relational skills in the leaders of organisations. One of the stated objectives of this training is the inculcation of strong communication skills in the participants. These skills will stand you in good stead in your commitment to ensure the effectiveness of your organisations," he said.

Load more