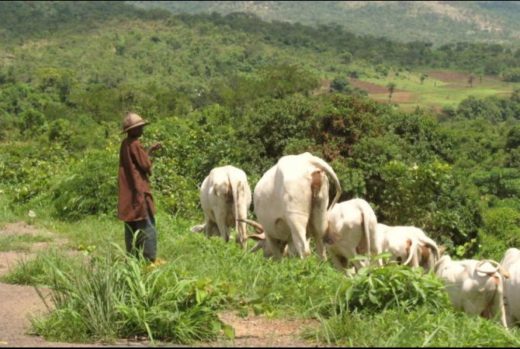 The Federal Government has explained the reason for its planned establishment of cattle colonies, saying it is a measure to quickly curb the incessant bloody clashes between farmers and herdsmen.
Chief Audu Ogbeh, the Minister of Agriculture and Rural Development, said this when Gov. Simon Lalong of Plateau visited him in Abuja.
Mr Tolu Makinde, the Director, Information, said this on Thursday in a statement by Mrs Oluwakemi Ogunmakinwa.
The minister noted that the policy would not transfer communal land ownership to herdsmen wherever it was established.
Ogbeh was reacting to fears by some citizens that the policy was an attempt by the Federal Government to forcibly collect land from citizens and hand them over to herdsmen.
He noted that there was no truth in speculations that the government was conspiring to grant supremacy over communal land to herdsmen.
The minister commended the Plateau Government for its interests in developing agriculture.
READ: Council projects N36bn for raw materials importation for 5years
"Cattle colony is not using herdsmen to colonise any state. It is going to be done in partnership with state governments that will like to volunteer land for it.
"The Federal Government will fund the project and those wishing to benefit from it will pay some fees.
"While ranching is more of an individual venture for the herdsmen and those wishing to invest in the livestock sector, cattle colonies is a larger project where up to 40 ranchers can share same facility that will be provided by the government at a reduced rate.
"Already, 16 states have volunteered land,'' he said.
The minister said the Federal Government would soon hold a stakeholders' forum with the herdsmen and other stakeholders on the implementation of the new policy.
Earlier, Lalong said that he was at the ministry to understand the new policy.
He said that the state would key into the policy to maintain peace in the state.
"I happen to be one of the persons that keyed into the ranching policy when it was introduced.
''We saw some lands in Plateau and we provided them for the implementation of the policy.
"The introduction of this policy is of interest to us, that is why we are always here.
"We also heard about the introduction of another one, that is the cattle colony and I said let me still come back again. We will also key into this policy,'' he said.
Ogbeh had on Jan. 8, disclosed the Federal Government's plan to establish cattle colonies in the country.