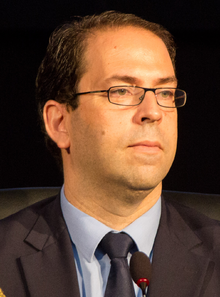 Tunisian authorities have arrested 328 people over involvement in "subversive" acts after a third night of protests against price and tax increases, the interior ministry said on Thursday.
Those arrested participated in lootings of private and public properties late Wednesday in various parts of Tunisia, the Ministry spokesman, Khalifa Chibani, said.
Some 21 security personnel were also injured and 10 police vehicles damaged in the overnight unrest, he added.
Anti-government demonstrations erupted this week in several areas in Tunisia in protest against the hikes in the prices of some goods and new taxes.
One protester was killed on Monday during demonstrations in the town of Tebourba, west of Tunis.
Overnight protests continued on Wednesday in several locations of Tunisia, local witnesses said.
Lootings of stores and attacks on security facilities were also reported.
Tunisia is widely seen as the sole democratic success story of the 2010-11 Arab Spring uprisings.
The country has been in the grip of an economic slowdown resulting from the unrest that followed the 2010 revolt and a series of attacks by insurgents.
The government has defended the recent price and tax increases, saying they are necessary to revive the economy and curb budget deficit.
The opposition has backed the street protests and called on the government to scrap the austerity measures.