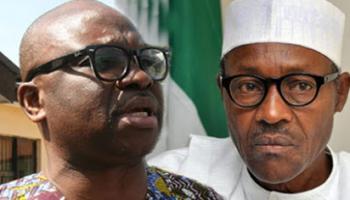 Fiery governor of Ekiti State, Ayodele Fayose has condemned some northern governors and all those endorsing President Muhammadu Buhari for a second term in office.
In a tweet on Friday, the no-nonsense Ekiti governor castigated those calling on Buhari to continue in office in 2019 as treating Nigerians with contempt in the face of the hardships they experienced daily.
In the midst of fuel scarcity, exorbitant fuel price, unjust killing of innocent Nigerians by Fulani herdsmen, high cost of goods and services, bad roads and dilapidated infrastructure, 7 northern governors of the All Progressives Congress (APC) on Friday endorsed Buhari for a second term in office.
Read Fayose's tweet below:
"No fuel, killings in Benue, Taraba, Adamawa, Rivers, etc. But some people's response to all these is to endorse President Buhari for second term. What a way to treat Nigerians with contempt…"
Former aviation minister, Mr Femi Fani-Kayode also described the governors who endorsed Buhari for a second term as a bunch of losers, scumbags, sadists, leeches, vampires who have fed fat on the blood of innocent Nigerians.
Read Fani-Kayode's tweet on the endorsement:
"The 7 northern APC governors that have endorsed Buhari for a 2nd term are a bunch of losers and scumbags.They are sadists, leeches,parasites and vampires who have fed fat off the blood of the innocent Nigerians that Buhari and his Fulani terrorists have shed over the last 3 yrs."
In his own opinion, celebrated publisher Dele Momodu argued that President Muhammadu Buhari would be 76 in 2019 and would be too "tired" to run a "complex" nation like Nigeria.
Momodu called on Buhari not to seek re-election in 2019 because "Nigeria needs a man with full stamina" to govern the country.