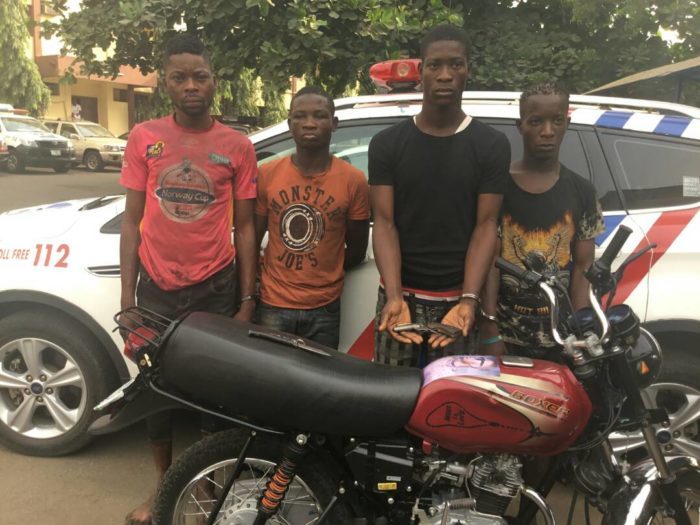 A suspect arrested by the operatives of Rapid Response Squad of the Lagos State Police Command for supplying gun to three robbery suspects has disclosed to the police that he bought the gun to scare away cult members who were disturbing his cult group in Ajah area of Lagos State.
The suspect, Omole Ridwan, 21, was picked up in his parents' house in Ajah area of Lagos by the police after the arrest of three robbery gang in Somolu, Lagos.
The robbery gang, comprising of Taiwo Lawal (23), Kabiru Ajiboye (24) and Seyi Ayetoba (27) were arrested on Thursday night in Somolu while trying to dispossess a motor cyclist a of his bike.
The victim and a passenger who the gang waylaid outsmarted them before raising alarm, which drew the attention of the patrol team of Rapid Response Squad. The robbers were chased and arrested with the assistance of community members.
According to Omole, who confessed to be an Aiye cult member, 'I bought the gun from a secondary school mate of mine. I bought it for N9,000:00.
"I got it because of rival cult members who were disturbing me on the street. They knew I belonged to Aiye Confraternity and yet they want me to be one of them. I bought the gun in September, 2017. Because my friend, Seyi Ayetoba knew that I had a gun at home, he came to collect it. He afterwards requested that I follow him out on operation.
"I asked him the nature of the business and he told me robbery and okada snatching. I told him, I can't do such business. Whenever he borrowed the gun and went out on operation, he came back home to give me some money.
"On three occasions, he had given me money after returning home in Ajah. First, he gave me N10,000:00. Second, it was N10,000:00 and an Android phone. The third was N2,000 because the operation wasn't so smooth', he added.
According to the leader of the robbery gang, Seyi Ayetoba from whom the gun was recovered, 'I was initiated into robbery by Tunde.
"He was the leader of my previous gang. He was arrested sometime last year. I met Tunde in Mushin. Whatever we stole, we sell it in Mushin. It was Tunde who taught me all kinds of tricks I deployed during operation.
"The day he was arrested, I didn't go out with him. I formed my own gang with Taiwo and Kabiru. I took the gun from Ridwan and each time we went on operation, I pay him for hiring the gun from him."
He continued, "I live in the same street and we belonged to the same confraternity. The areas we have operated were 'Ajah, Costain, Onipanu, Yaba and National Stadium. We sell okada for between N60,000 to N30,000 depending on its condition."
Recovered from the gang were a locally made short pistol with a 9mm, A – K47 live cartridge and a Jack Knife.
Confirming the development, Police Public Relations Officer, PPRO, SP Chike Oti stated that the gang is cooperating with the police, adding that Commissioner of Police, Mr Imohimi Edgal lauded community members participation in the arrest of the suspects.
The case has been transferred to FSARS for further investigation.