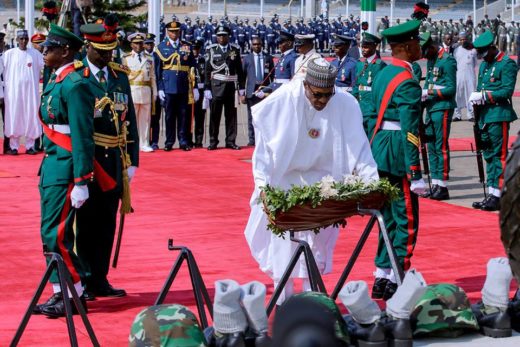 The General Officer Commanding the 82 Division of the Nigerian Army, Enugu, Maj. Gen. Adamu Abubakar, has urged Nigerians to live together, be happy and respect the culture and diversity of the country.
Abubakar made the call on Monday at the 2018 Armed Forces Remembrance Day celebration at the Okpara Square, Enugu.
He also urged Nigerians to remember fallen heroes and render support to their families.
He said that the fallen heroes had paid ultimate sacrifice for the promotion of peace in the country.
According to him, Nigerians should always remember them because they paid the ultimate sacrifice for the corporate entity and unity of the country, and that without peace there can never be development.
The armed forces and paramilitary personnel were fully represented and the event that started with an armed forces parade of 150 gentlemen.
READ: Photos: Buhari performs Wreath-laying ceremony
The state Chairman of the Nigerian Legion, Mr Emeka Igwesi, also said that it was a day of recognition and remembrance of the fallen heroes and a day also to remind the families that the nation had not forgotten them.
Igwesi appreciated those who had assisted them in taking care of their families.
Gov. Ifeanyi Ugwuanyi paid his tribute to the fallen heroes by laying a wreath followed by the GOC.
Other dignitaries who also laid the wreaths were the state Chief Judge, Justice Priscillia  Emehelu,  the Commissioner of Police in the state, Danmallam Mohammed, the Deputy Speaker  House of Assembly, Donatus Uzoagbado, who represented the Speaker , Edward Ubosi.
Others are: representative of the Nigerian Air Force, AVM S.O. Akpasa, Chairman, Traditional Rulers Council, Igwe Lawrence Agubuzo, and widow of a fallen hero, Mrs Sarah Ugwuabonyi.
Highlight of the event was the release of white pigeons from their cages which signified peace and unity.