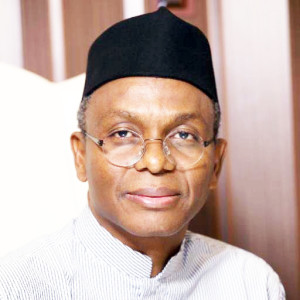 Gov. Nasir El-Rufai of Kaduna State on Monday swore-in three new commissioners and 13 heads of agencies, saying the administration has only 18 months to deliver on its mandate.
"Whether or not the people of Kaduna state decide to give us the opportunity of a second term in office, we have one and half years to get it done; there is no time and we must all rise up," he said.
"This is a year to work round the clock to deliver on campaign promises,'' he added.
El-Rufa'i stressed that the cabinet reshuffle was not because those who were eased out had failed, but rather to circulate people around and share experiences.
"It is our hope that we are preparing the next set of leaders, so that when we leave office they can be able to handle all aspects of leadership.''
The governor admonished the appointees to live up to their responsibilities, assuring that more people would be brought into the government as situations improve.
"All of you know why you are here; it is because you are competent to give your own quota to the development of the state.''
The new commissioners are Dr Ibrahim Hamza for Water Resources, Mrs Ruth Alkali; Commerce, Industry and Tourism, and Bilkisu Yusuf; Fiscal Responsibility Commission.
Some of the heads of agencies include Mohammed Magaji, Managing Director, Roads Agency, Ibrahim Ahmed, Managing Director, Kaduna State Media Corporation, Musa Usman, Director-General, State Facilities Management Agency, Mr. Ben Kure, Executive Secretary, State Emergency Management Agency.
Others were Kabir Goma, Executive Secretary, Industrialization and Micro Credit Management Board, Umma Aboki, Special Adviser, Economic and Investment Matters, among others.