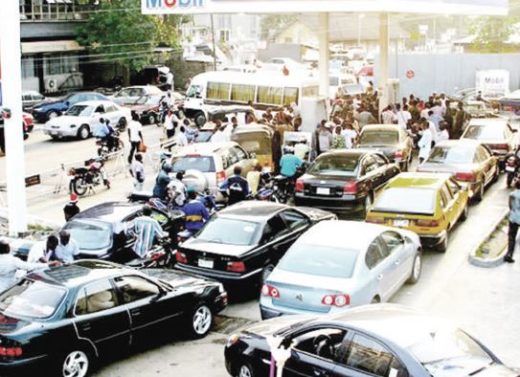 Motorists in Abuja on Monday urged the Federal Government to take lasting measures to end the lingering petrol queues in some parts of the country.
The motorists, who spoke in separate interviews with the News Agency of Nigeria (NAN) in Abuja, noted that Nigeria should not be experiencing fuel queues given its abundant mineral resources.
According to them, every problem has an expiry date.
A motorist who queued at the Oando Filling Station in Mabushi area of the FCT said "the queues are building up by the minute and one cannot say this is the exact reason why there are queues.
"The Federal Government said there would be no price increase, that there is enough products that we should not engage in panic buying but look around you, most people on the queues are those that need petrol for their daily runs.''
Another motorist at the NNPC filling station on Airport Road said "the government should have found a solution to the fuel situation. Nigeria is 57, we should have gone past this stage''.
"We should be talking of making breakthroughs in science, health, various researches and not be on the petro queue for endless hours. It is not right.''
The situation was not different at the Conoil filling station in the Central Area as there was a long queue.
A motorist on the queue, however, said it was "devoid of chaos unlike in December. I didn't expect to start queuing up this early in the year''.
"When I got back from the village and there were no queues, I heaved a sigh of relief. I thought by now solutions to this fuel problem would be in place.
"The government should please tell us what to expect so that we can work around it because saying there is petrol, when there is not is destabilising''.
The Minister of State for Petroleum Resources, Dr Ibe Kachikwu, had repeatedly assured that President Muhammadu Buhari's had made it clear that there would be no price increase from the present N145 per litre.
He said meetings with stakeholders were ongoing to find mechanisms to ensure that there were no more fuel queues.
The Nigerian National Petroleum Corporation (NNPC) had on Jan. 11, in a statement signed by its Spokesman, Mr Ndu Ughamadu urged motorists not to engage in panic buying of any petroleum products.
Ughamadu also assured motorists that the Corporation had a robust stock of petrol that would last more than 30 days.
Similarly, the NNPC Group Managing Director, Dr Maikanti Baru, had on Jan. 9 at the 2018/2019 crude oil term contract bid, assured that days of fuel scarcity were over.