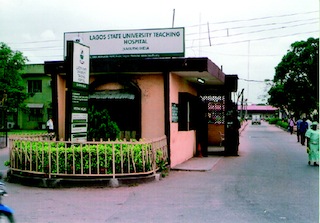 The Lagos State University Teaching Hosptal (LASUTH), Ikeja, says it aims at reducing medical tourism to the barest minimum in 2018.
The Chief Medical Director (CMD) of the hospital, Prof. Wale Oke, made this known in an interview with the News Agency of Nigeria (NAN) on Monday in Lagos.
Oke said that the hospital was consolidating on the transplants that were carried out in the hospital between 2015 and 2017.
LASUTH had performed its first kidney transplant on a 56-year-old man in November 2015, followed by another on a 38-year-old man in August 2016.
"We are consolidating on our transplants; we had three more done in 2017.
"We have done two cardiac surgeries and by 2018, we are hoping to capitalise to do more; with each one that we do, we get better.
"The aim, of course, is to reduce the era of medical tourism as much as possible.
"It is better for somebody to have his or her treatment here; it is less expensive, you are at home, and so, healing is better.
"Relations can easily assist, but when you go abroad, you go with a relation; pay for that relation and stay in a hotel, which costs a lot, " he said.
The CMD said that the hospital was set to establish an infectious disease emergency unit that would be able to identify diseases.
According to him, Lagos State has an infectious disease hospital that has been set up to higher levels that would be able to tackle disease outbreaks.
"Ebola came about three and a half years ago and almost caused problems; we are thinking positively that what if something like Ebola comes?
"So, we set up a unit that will help us manage it as best as we can.
"Our duty will be to identify and quickly move the affected person to the infectious disease hospital, " he said.
Oke said that the major challenge facing the hospital was shortage of medical personnel.
He said, however, that the state government had in 2016 approved the employment of over 25 doctors, 50 nurses and other paramedical staff.
"Our challenges, of course, are challenges of other hospitals; we need more staff.
"We know that the government is doing everything it can do, but it continues to answer us; when doctors leave, we have a replacement," he said.
Oke, however said the the replacement was not immediate, as due process involving application, approval by the government and then interviews must be followed.