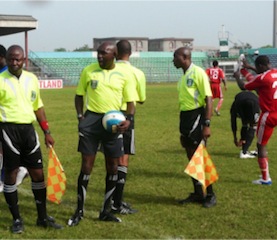 The President, Nigeria Referees Association (NRA), Tade Azzez, has expressed displeasure over the alleged attacks on some of its members at the opening of 2017/2018 Nigeria Professional Football League (NPFL).
He said some members of the association were allegedly attacked in some match venues during the Match Day 1 fixtures of the NPFL.
The NRA boss expressed his displeasure in a statement on Monday in Lagos by the association's National Publicity Secretary, Kelechi Mejuobi.
Azeez said that such act was a threat to the newly kicked off league.
There were reported cases of violence in some venues with a reference to the first league match between Katsina United and Kano Pillars in Katsina.
"The attention of NRA, has been drawn to unpalatable incidents trailing the kickoff of the NPFL,'' he said.
Azeez, however, specifically made reference to the match involving Katsina United and Kano Pillars and the Nasarawa United and Plateau United's match.
"In the Week One matches played on Saturday and Sunday, the referees who were on duty in some centres received pockets of unsavoury treatment that poses danger to the lives of the match officials in the games ahead.
"The referees' body which is keenly monitoring the situation by following the cases of the victims, sympathises with their injured members.
"We are also expecting that the report of the incidents will be sent to appropriate quarters for further actions,'' the statement said.
It added that "preliminary reports have it that while there was a minor attempt to maltreat the referees who handled the league opener in Katsina; Katsina Utd vs Kano Pillars.
"We also got same report in the Nassarawa Utd vs Plateau Utd clash which turned awry for the referees who were seriously brutalised leading to a disturbing health conditions.
"The NRA regrets that in spite of the appeal by its leadership led by Tade Azeez for all stakeholders to imbibe the spirit of sportsmanship, violence against us was recorded.
"We also educate on the need to refrain from making referees their scapegoats after unfavourable outcome, attacks on match officials heralded the new season.
"I hereby express my disapproval over the ominous signs, the threats and mischievous tendencies against referees cannot stop NRA members from being fair and firm in the course of discharging their duties.
"I also appeal to the organisers, state Football Associations (Fas), clubs and spectators to assist referees with a conducive environment to operate for the good of the game.