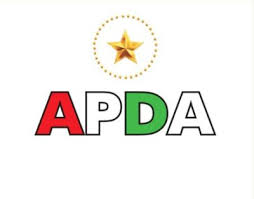 The Advanced People's Democratic Alliance (APDA) has called on the Federal Government to as a matter of urgency find lasting solution to herdsmen/farmers clashes in the country.
Malam Mohammed Shittu, the National Chairman of the party, gave the advice at the APDA "Young Leaders Forum's 2018'' welcome dinner on Monday night in Abuja.
Shittu said until genuine solutions devoid of ethnicity, religion and political interest was arrived at, there may not be solution to the killings in Benue, Taraba and other states where the unnecessary killings were happening.
Shittu, however, said that APDA rejected the proposal to establish cattle colonies in the country, saying it was a strange system to Nigeria.
"Our constitution does not recognise cattle colony, it recognises cattle ranches and cattle grazing reserves.
"When you are talking about cattle colony, are you talking of where cattle meats are being sold?
"We believe that the establishment of cattle ranches or grazing reserves is an economically viable project that can generate millions of jobs and income for Nigerians and the country.
"But when you talk of cattle colony, we in APDA reject it. We support cattle ranches and grazing,'' Shittu said.
Shittu, who commended members of the leaders forum, expressed optimism that their efforts would boost APDA's chances in future elections, especially in the 2019 general elections.
"For young Nigerians to make up their minds and start bringing in their resources and talents to support ADPA means a lot.
"Unlike old days when youths wait for politicians to bring money, we can see what these young men have done with their resources and talents to support the party,'' he said.
Shittu called on Nigerian youths to be more active in political activities to bring in more innovation that would improve the country's politics.
He said that with the recent court judgment that civil servants could participate in politics, the "youths are expected to be more involved in politics''.
"Why do we allow people without ideas to rule us? Young Nigerians should wake up and participate more in political activities to develop Nigeria.''
The National Coordinator of the APDA Young Leaders Forum, Mr Austin Ufoma, described the forum as a group of young experts from different sectors and professions across the country.
Ufoma said the goal of the forum was to give the necessary support to APDA and its candidates in any election.
He said to achieve its mandate, the group had designed various activities including the conduct of research, book review, use of technology and mobilisation of support and membership for the party.
Ufoma also urged young Nigerians interested in politics to join the party, adding that the forum would mobilise support for any member of the party vying for elective position.