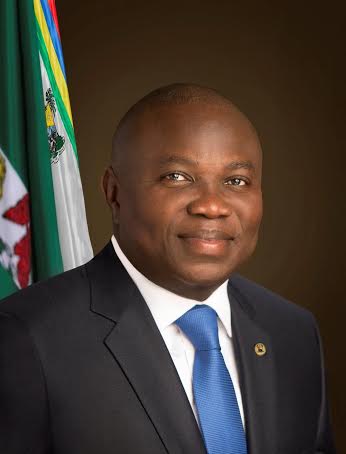 By Kazeem Ugbodaga
Witnesses have told a Lagos High Court, Igbosere, how two young men, Rilwanu Jamiu and Balogun Oyewole attempted to dupe the Lagos State Government to the tune of N50 million by cloning the official telephone number of Governor Akinwunmi Ambode.
The suspects were brought to court on Tuesday for commencement of trial before Justice Sedoten Ogunsanya.
The alleged fraudsters are being prosecuted on a three-count charge of possession of fraudulent document, impersonation and attempt to commit felony.
Leading the prosecution on Monday at the commencement of trial is the State Attorney General, Mr Adeniji Kazeem, who led the State Accountant General, Mrs Abimbola Shukurat Umar in evidence before the Court.
In her evidence, Mrs Umar described to the court how she received a text message on the 10th of February 2016, purportedly from the Governor of Lagos State, Mr Akinwunmi Ambode, directing her to transfer the sum of N50 million to a designated Keystone Bank account.
According to her, she found the message suspicious and highly irregular of the official accounting protocol.
This prompted her to bring the message to the attention of the governor, who, after distancing himself from the message, ordered the immediate investigation of the matter.
The investigation by led by the Department of State Security Service, DSS, led to the eventual arrest of the defendants.
The prosecution team also called Mr Wale Odu, State Director of the DSS, Lagos State Command to give evidence.
In his statement, Mr Odu confirmed that investigation leading to the arrest of the defendants was conducted by his team. According to him, investigation revealed that the 2nd defendant is one of the directors and shareholders of the Clayder Limited to whose Keystone Bank account; the N50 million fraud money would have been paid.
The matter was later adjourned to Wednesday, 14 February 2018 for continuation of the trial, while the defendants were remanded at the Kirikiri Medium Security Prison.