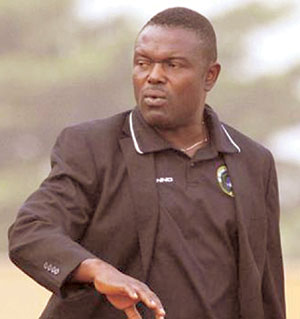 As hostilities resume midweek in Day 2 of the 2017/2018 Nigeria Professional Football League (NPFL) season, Rivers United FC's Coach, Stanley Eguma says his team is sure of picking a point in Jos.
The 2016/2017 champions Plateau United would play host to Rivers United to re-enact a rivalry that's turning out to be one of the NPFLs most compelling fixtures.
Both sides opened their respective accounts with victories over El Kanemi Warriors and Nasarawa United at the weekend, to make their upcoming fixture a must win for either side.
Champions, Plateau United claimed a stunning 1-0 win over Nasarawa United in Lafia, while Rivers United also won by a lone goal at home to El-Kanemi Warriors.
Plateau United will, however, be the odds on favourite to pick the three points at home against the backdrop of their home support from teeming fans and status as defending champions.
The "Peace Boys'' look very promising on current form ahead of their maiden outing in the CAF Champions League.
Raphael Ayagwa scored the winner in Lafia on Sunday and would be seeking to impress against their Port Harcourt based opponents.
But in spite of the intimidating nature of the upcoming showdown against the Kennedy Boboye tutored side, Eguma was, however, not scared of the likely outcome of the match.
"Plateau United have started well and they also did well last season. They have made good recruitments, but we are already on track with Sunday's victory over El Kanemi Warriors.
"My players are happy and I know they will also want to be happy on the trip back to Port Harcourt from Jos.
"Everyone here is determined to go to Jos to get the points. I will not be on the boastful side because I know that the league is just beginning.
"I am assuring the fans that we will not let them down as we will be going there to get victory but if we can only get a draw, it is also acceptable,'' Eguma said.
Apart from Samuel Akinbinu who suffered a shoulder injury against El Kanemi Warriors, Eguma told NAN that he had almost a full squad to work with in the Jos showdown.
"Prince Aggrey impressed on Match Day 1 fixtures on Sunday against El Kanemi and will be favoured to start his second game in as many matches.
"Ochowechi Salefu debuted on Sunday and has been included yet again in the United's Match Day squad.
Meanwhile, Head coach of Plateau United Boboye is in an upbeat mood ahead of Wednesdays clash, but readily admits he knew little or next to nothing about the opposition.
"I have not seen Rivers United play this season, so I don't even know what they have, but when they come to Jos we will push hard to see that we claim victory.
"My biggest target is to defeat them on Wednesday as we drew twice in the league last season in Port Harcourt and Jos.
"I don't think it will be the same this season and by God's grace, we will think of beating them in Jos,'' he said.
In previous encounters between the two NPFL sides in the last two seasons both teams battled to one win and one draw a piece.