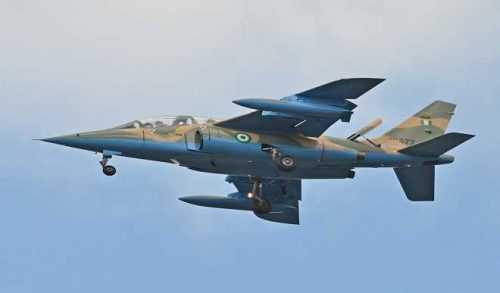 The Nigerian Air Force (NAF)  on Wednesday winged 11 pilots who have successfully completed Basic Flying Training in South Africa.
The Chief of Air Staff (CAS) , Air Marshal Sadique Abubakar, urged the new pilots to re-dedicate themselves to their duties by bringing to bear the knowledge they had acquired during the training.
Abubakar said it was the first time the service was Winging two female officers as qualified pilots.
He said to continue to protect the sovereignty and integrity of the country by air, NAF had acquired air asset fighter aircraft, helicopter gunships and other platforms to discharge these responsibility.
He said further that air assets alone without adequately trained pilots could not enable the service to effectively discharge its constitutional responsibilities.
"It is against this background that the service embarked on human capacity development in all NAF specialties, particularly the flying specialty.
"The infrastructure in Kano, Kaduna and Enugu states had been expanded," he said.
Abubakar added that the service was expecting additional ten pilots from the International Aviation College, Ilorin, and four from South Africa to complete their training by February.
He said further that by the end of February, the service would have successfully winged 72 pilots, while waiting for additional 74 pilots currently undergoing training to qualify for the service wings award.
READ: Customs officers kill Bus conductor in Lagos
"Out of this number, 64 are undergoing training in the country, while the remaining ten are undergoing theirs outside the country.
"In the area of instructor pilot training, the service had trained 23 instructor pilots in the last two years, while seven are currently undergoing training abroad, with three in USA and four in Jordan.
"Our training efforts in Kaduna State have been greatly enhanced with the acquisition of ten super mushshak trainer aircraft.
"All hands are on deck to increase the number of serviceable L-39-ZA aircraft for basic fighter training," he said.
The CAS added that the service efforts in area of human capacity development had greatly enhanced the service projection capabilities not only within the country, but also beyond its borders.
The Special Guest of Honour, retired Air Chief Marshal Paul Dike, while Winging the officers, urged them to make judicious use of the knowledge acquired in the discharge of their professional responsibility.
Dike commended Abubakar for his giant stride in re-positioning the service to a better and more modern professional organisation.
He said human capacity development was the key to a viable and vibrant force, adding that without well trained pilots, NAF would not have been in existence.