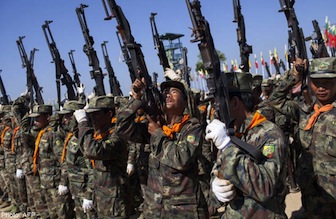 Myanmar police opened fire on a crowd, killing seven ethnic Rakhine Buddhists as they tried to seize a government office, in unrest that left seven dead in a state already scored by violence and bitter divisions, media reported on Wednesday.
Channel News Asia media outlet reported that the incident took place early on Wednesday, when over 5,000 Buddhists gathered to take part in a demonstration with nationalist slogans,.
During the demonstration, clashes erupted with protesters throwing stones at police, which left more than 20 officers injured.
The police responded by opening fire, which resulted in casualties.
The clashes between Buddhist nationalists and police took place a day after the country's government signed an agreement with Bangladesh on the repatriation of Rohingya Muslim refugees.
The Arakanese Buddhists also known as the Rakhine people are an ethnic majority in the Rakhine state, which is close to the Burmese.
The Buddhist since 1948 have from time to time demand independence from Myanmar and occasionally engage in clashes with Rohingyas, urging the latter to flee to Bangladesh.