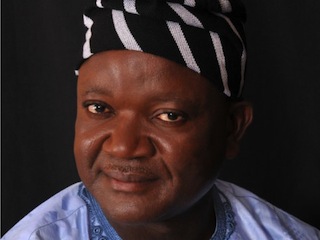 Gov. Samuel Ortom of Benue says the state does not own any militia group.
Ortom was reacting to rumour making the rounds in some quarters in the country that the state government owned a militia group.
The governor spoke on Thursday in Makurdi, when the Benue Youth Prayer Group and National Union of Road Transport Workers (NURTW), Benue chapter paid him a condolence visit.
He described the rumour as a way to divert attention from the actual problem on ground.
Ortom said that as a law abiding citizen, recruiting militia was not an option to the insecurity that had bedeviled the state.
He said the rumour was the handiwork of mischief makers who want to divert the attention of people from the killings that were taking place in the state.
According to him, the state does not need any militia to tackle the incessant attacks on innocent indigenes of Benue because the Lord God Almighty will help them to defeat their enemies.
He recalled that if he had wanted to keep a militia group, he would not have disarmed those that were in possession of illegal arms in the first place.
The governor urged his people not to lose faith and hope but hold tenaciously unto God in the firm belief that He would not fail them, adding that they would be victorious at the end.
Leader of the prayer group, Pastor Joshua Ikyernum, said that their visit was to identify with the governor over the recent killings of no fewer than 73 persons in the state by some yet to be identified gunmen.
He said their visit was also to assure him of their unalloyed and unflinching support in the face of the killings.
Ikyernum said that the group was against the genocide that was presently going on in the state, adding that the perpetrators would surely not go unpunished.
He called on the Federal Government to defend Benue people and to also arrest those behind the heinous acts.
The Secretary-General of NURTW, Comrade Boga Abuul said that the motive of the herdsmen was not free grazing but to take over the entire Benue valley which they claimed belonged to them.
Abuul said that the Miyetti Allah Kautal Hore had issued threats and executed their threats without being arrested.
He commended Ortom and the State House of Assembly for the passage and signing of the Anti-Open Grazing Law 2017.
According to him, ranching is the best panacea to the incessant crises between herdsmen and farmers.