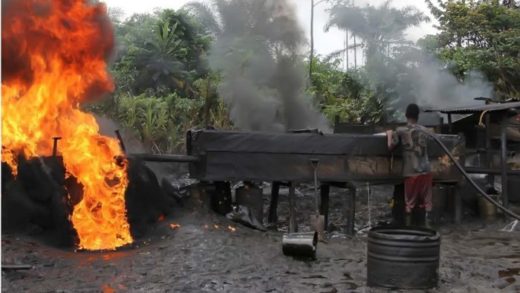 The Eastern Naval Command of the Nigerian Navy, Calabar, has destroyed no fewer than 150 illegal refineries between June 2017 and January 2018.
Rear Admiral Victor Adedipe, the command's out gone Flag Officer Commanding (FOC) made this known at the handing over ceremony to his successor Rear Adm. Matthew Emuekpere on Friday in Calabar.
Adedipe said that the illegal refineries were destroyed within the command's area of operations, which included Rivers, Akwa Ibom and Cross River states.
He said the success was due to constant patrol by the personnel in the creeks, adding that the command also repelled the hijack of several ships.
"During my time, we were able to shut down 150 illegal refineries within the command.
This was due to aggressive anti-crude and illegal bunkering patrol.
"In the area of welfare, with very strong support from the Naval Headquarters, the command was able to add value to its barracks.
"I must appreciate other security agencies, our host communities and the governments of Rivers, Akwa Ibom and Cross River states for their support and I solicit the same support for my successor.
"I also acknowledge the civilian staff that served in the command and I urge them to continue with the same level of loyalty, commitment and support for the new FOC,'' he said.
Responding, Emuekpere commended Adedipe for his dynamic leadership in the command.
He thanked those that helped Adedipe to succeed and urged that the same level of support be given to him to enable the command achieve its set objectives.
"I have served in this command as a young officer. I wish to solicit the support of all personnel within the command to help us move the Nigerian Navy forward,'' he said.