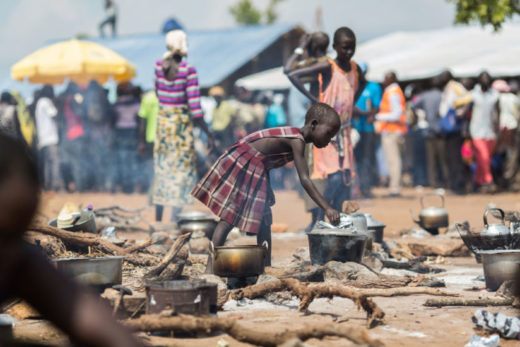 About 700,000 people were forced to flee South Sudan in 2017 as refugees to neighbouring countries due to conflict, hunger and disease, the UN humanitarian agency said on Thursday.
The UN Office for Coordination of Humanitarian Affairs (OCHA) said nearly four million people have been displaced.
This include over 1.9 million internally displaced and over 2 million who have fled as refugees to Uganda, Kenya, Ethiopia, Sudan and the Democratic Republic of Congo (DRC).
"The number of South Sudanese forced to leave their country in 2017 is slightly lower than the 760,000 people who left in 2016," the UN agency said in its latest bulletin released in Juba.
According to OCHA, over 70 per cent of the 700,000 fled in the first half of 2017, which saw multiple military offensives in Upper Nile, Jonglei, and the Greater Equatoria region.
According to the report, majority of those uprooted crossed into Uganda in the first half of 2017 following increased hostilities in East, Central, and Western Equatoria.
"Uganda now hosts over one million South Sudanese refugees; of those more than 85 percent are women and children," said the UN.
It said the number of South Sudanese living in six refugee camps in northern Uganda rose to 1.03 million in October, but dropped to 986,000 by the end of December.
Others crossed to Sudan, Ethiopia, Kenya, the DRC and Central African Republic (CAR), which are hosts to more than one million South Sudanese refugees.
Citing partners in the region, OCHA said security concerns were mainly fueled by fear of indiscriminate killings, ethnically motivated attacks, torture, looting and burning of homes, and forced recruitment of young people by armed groups in South Sudan.
"Families crossing the border have cited the security situation, hunger, and disease as the primary driving factors," said the UN.
Many travelled on foot for several days through the bush, afraid of militant groups and roadblocks on main roads to the border.
South Sudan descended into violence in December 2013 after political dispute between President Salva Kiir and his former deputy turned rebel chief Machar led to split within the SPLA, leaving soldiers to fight alongside ethnic lines.
The 2015 peace agreement to end the conflict was weakened after outbreak of renewed fighting in July 2016 caused the SPLA-in opposition rebel leader Machar to flee the capital.