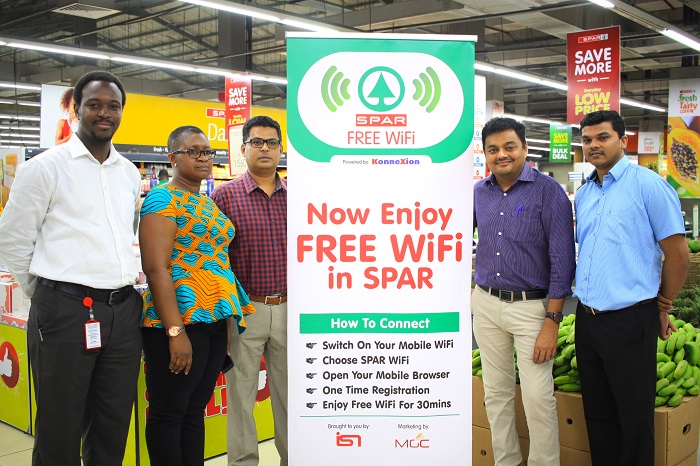 A leading supermarket chain, SPAR, has introduced free Wi-Fi in its 12 stores across the country.
The free Wi-Fi, which began its debut at the Ilupeju branch of the hypermarket, would be implemented across other SPAR stores nationwide.
SPAR spokesperson, John Goldsmith, said in a statement that the free Wi-Fi service would be available to shoppers using a smartphone, tablet or a laptop that has built-in Wi-Fi.
"We are glad to announce the launch of Free Wi-Fi service from SPAR Ilupeju store. We are sure the Free Wi-Fi service is in line with our shopper expectation and it will surely delight our shoppers and add joy to their shopping experience," he said.
According to him, Wi-Fi routers are placed in strategic locations inside the store so that shoppers can enjoy a seamless browsing experience in each and every corner of the store.
"We have done an extensive heat mapping of the shopper flow inside our stores and identified the best locations to deploy the routers.
"As it happens in all product and service launches, we too will go through a learning phase which will help us fine tune service to deliver superior connectivity for all our shoppers," Goldsmith said.
He said SPAR shoppers would need to complete a one-time registration with their email address after which they would be able to use a maximum of 30 minutes of free Wi-Fi daily.
"Shoppers can come every day and use Free Wi-Fi for 30 minutes which is a fair approximation to time spent in the store.
"One of the core pillars of SPAR is customer service and free Wi-Fi is one of the must-have for today's aspiring customer in a modern retail store.
"In Africa's emerging economy, free Wi-Fi is one such value-added service that shopper especially the youth segment looks for in any place of shopping location.
"Our most exciting moments are captured when our shoppers come into our stores, have a fantastic experience and leave satisfied,'' said the SPAR spokesperson.