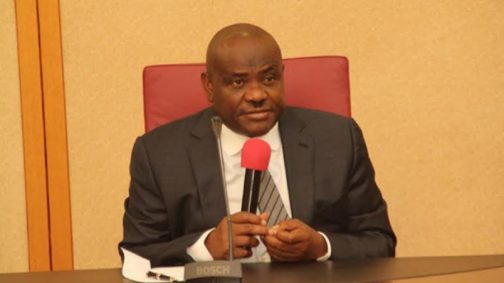 Okafor Ofiebor/Port Harcourt
Governor Nyesom Wike of Rivers State has shocked Rivers people and Nigerians when he revealed that Songhai farm and the multi-million Naira banana farm both in Tai local government area in Ogoniland established during the administration of Chibuike Amaechi were secretly owned by private individuals in collaboration with some Mexicans.
He blamed the collapse of the Banana farm on multiple litigations against the state government by members of the host communities who felt that their lands were forcefully acquired and were not properly consulted before its establishment.
He accused the past administration of practicing "governance by text messages on phone. He embarked on so many unrealizable projects because he hoped that he would plant his chosen successor who he can manipulate to continue with those, even when they are not viable."
Wike explained that he is not bothered by the criticisms from the opposition that he has not initiated new projects but completing the ones initiated by the previous administration because he believes that governance is a continuum and abandoning old projects would have littered the state with abandoned projects.
He boasted that he is sure that if he decides to seek re-election Rivers people will vote for him overwhelmingly because within a period of less than three years of his administration, no local government has been left without signature projects.