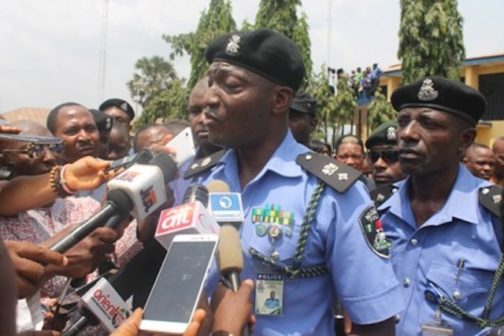 The Committee to Protect Journalists (CPJ), a U.S.-based journalists' rights and press freedom campaign organisation, has profiled the police assault of Mrs Taiye Edeni of the News Agency of Nigeria (NAN).
The journalists' defence organisation said the incident took place at Kaduna on Jan. 4, 2017, adding that Enemaku Ojochigbe of the African Independent Television (AIT) was also a victim of the assault by a personnel of the police.
"Nigerian police on January 4, 2018, denied at least 10 journalists access to the public commissioning of a dry port in Nigeria's northwestern Kaduna state.
"They assaulted at least two of the reporters, according to accounts form the two reporters, Enemaku Ojochigbe and Taye Edeni, and the Daily Trust newspaper.
"Nigerian police initially told journalists there was not enough seating at the event to accommodate them all, Ojochigbe, who works for the privately owned African Independent Television (AIT) network Raypower FM, told CPJ.
"Ojochigbe said he tried to explain to the police that the journalists did not require seating, and showed police his media accreditation. The journalist said his efforts to negotiate were unsuccessful.
"The Nigerian transportation ministry representative who was leading the group of journalists was also unsuccessful in negotiating their access, despite stressing that they were accredited to cover the event, Adeni, who works for the state-run News Agency of Nigeria (NAN), told CPJ."
It quoted Edeni as saying: "From nowhere an armed police officer (then) started shouting that he will start pushing everyone if we don't get away from the gate".
CPJ said the two journalists confirmed that police pushed Ojochigbe, causing his head to strike Edeni in the eye.
Edeni told CPJ that "both the head of the journalist he (the police officer) pushed and the hit from the officer landed on my face."
According to the organisation, the assault caused Edeni's eye to swell and bleed, adding, the NAN reporter said she recognised the security personnel who assaulted her.
"The journalists were also threatened with tear gas, according to Ojochigbe and media reports.
"Edeni told CPJ that Jimoh Moshood, Nigerian Police Public Relations Officer, and Muhammad Baba Busu, the media aide to the Inspector-General, contacted her and apologised for the assault.
"During the calls, authorities promised to find the officer who pushed Ojochigbe and pay for Edeni's medical bills.
"Edeni told CPJ on Jan. 11, 2017, that authorities had not yet told if they had identified the officer, and had not paid her medical expenses," it said.
The journalists' group said upon his return to Abuja, a representative for the Inspector-General similarly contacted Ojochigbe to apologise and told him that a meeting would be scheduled with the police to discuss the incident.
It said, however, that as of Jan. 11, 2017, no date or time had been set, according to Ojochigbe.
"Moshood and Busu did not answer CPJ's repeated phone calls," the organisation said.