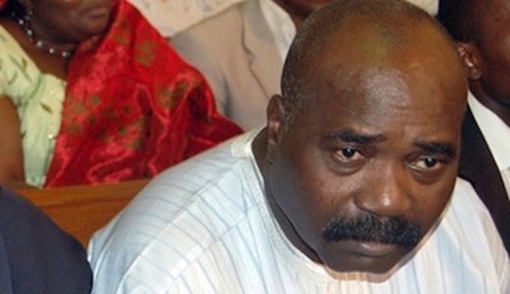 Akin Kuponiyi
Lucky Igbenedion 's daugther Nosazena Enaholo, Nigerian business man, Kennedy Uwagboe, and two limited liability companies, Jupiter Asset management company limited and Mid -Western Oil and Gas Limited have filed an application before a Federal High Court in Lagos, to set aside judgement of $3,286,629.92, and other orders made against them by the court.
Sometime in 2016, the court presided over by Justice Saliu Saidu awarded the judgement sum against the defendants after the Plaintiff, Diamond Bank Plc filed the suit on 18 June, 2015 and requested the court to enter the suit for hearing in the "undefended list" and to mark the writ of summons accordingly.
The facts upon which the bank believed the defendants had no defence to the suit were that Jupiter Asset Management Company limited borrowed $3,500,000 from Diamond Bank to acquire additional stake in a company called Eurafric Energy Limited.
The loan was guaranteed by Mid-Western Oil and Gas Limited, Nosazena Enaholo (Mrs) and Kenedy Uwagboe, then the Bank and Jupiter Asset Management Company agreed that the loan be repaid in quarterly installments of $437,500 and accrued interest.
They also agreed that repayment should be sourced from proceeds from the quarterly dividends from Mid -Western Oil and Gas Limited.
However, the defendants have failed to repay the loan, despite repeated demands by the bank, as a result, the bank sued the defendants to recover the loan.
Jupiter Asset Management company admitted its default and has kept requesting for extension and additional days to pay back the loan as evidenced in its letter dated 4 September, 2014 and 11th of November, 2014.
The defendants failed and neglected to file any process in the suit in opposition to the Plaintiff's application despite been served with the Plaintiff 's process.
Justice Saidu in his judgement said "Based on the failure of the defendants to enter a defence in this suit, I hereby enter judgement in favour of the Plaintiff against the defendants jointly and severally as followsa:
USD 3,286,629.92 being outstanding balance on the loan as at 14th May, 2015.
Interest on the sum of USD 3,286,629.92 at the prevailing bank rate, from 14th May, 2015 till judgement is entered.
Interest on the cumulative sum from the day of judgement is delivered till the judgement is finally liquidated.
Sale of five million ordinary shares of Mid -Western Oil and Gas Limited being 6.08% of the company's shareholdings held by the Jupiter Asset Management, charged to Diamond Bank as security for the loan given to the Jupiter Asset Management company, in partial liquidation of the judgement. N100,000 as cost of this legal action.
The case file has been re- assigned to Justice Olawale Faji who is yet to fix date for the hearing of the defendants application.